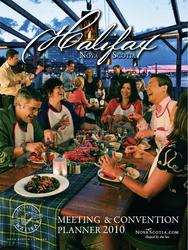 Halifax, Nova Scotia (PRWEB) December 10, 2009
The newly launched 2010 Halifax Meeting & Convention Planner, makes hosting an event in Halifax, Nova Scotia easier to research and book.
A comprehensive resource produced by Destination Halifax, the 2010 Halifax Meeting and Convention Planner includes capacity charts, Halifax hotels and meeting services, entertainment and dining options, unique venues and year-round festivals and events listings for the Greater Halifax area. Other features include a look back at Halifax history and pre- and post options across Nova Scotia. This year for the first time, the Halifax meeting and convention guide will be available primarily online as part of Destination Halifax's effort to be 'greener.'
"The decision to develop a user-friendly, easily navigated online meeting planner version of the annual guide was two-fold," says Helene Moberg, Destination Halifax Executive Director of Sales. "Meeting planners are asking for greener initiatives and programs through the planning process. In addition, people, from planners to local hosts trying to plan an event, are increasingly operating online. Having the Planner available for download or online reading means it's available to more people, and at any time."
The 2010 Halifax Meeting & Convention Planner features a section on the changing landscape of the Nova Scotia convention market, including a preview of the proposed new Halifax Convention Centre, opening in 2013. Halifax is home to the World Trade and Convention Centre, the largest space currently available in Atlantic Canada, the new state-of-the-art facility will triple the size of the convention centre to meet the growing demand for larger events.
Explore the 2010 Halifax Meeting & Convention Planner at http://www.destinationhalifax.com/conventions.
About Destination Halifax
Destination Halifax is a partnership of the Province of Nova Scotia, the Halifax Regional Municipality, the Hotel Association of Nova Scotia, the World Trade and Convention Centre, and participating industry members. Since its inception in 2002, Destination Halifax has operated with a goal of promoting the Halifax Regional Municipality as a year-round destination of choice for business and leisure travelers.
# # #