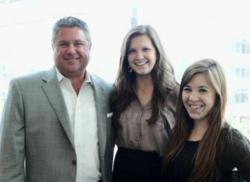 The Woodlands, TX (PRWEB) May 21, 2012
Hallaron Media, LLC (HM) announced the recent addition of two new team members to its growing staff. Staci Talamonti joined Hallaron Media in March as an Account Manager and Kristin Kulpinski will serve as Hallaron Media's Summer 2012 Intern.
Staci Talamonti, a 2011 graduate of Southern Methodist University in Dallas, brings public relations, marketing and event management experience to Hallaron Media. Along with a Marketing BBA from SMU's Cox School of Business, Talamonti's prior credits include working in the Communications Department of the Make-A-Wish Foundation® of North Texas and planning events such as Southern Methodist University's annual Celebration of Lights. As a Hallaron Media Account Manager, Talamonti will oversee client's public relations and advertising needs including media releases, media relations, copywriting, social media management, and overall advertising and PR strategy.
Kristin Kulpinski is currently a Journalism major concentrating in Public Relations at Baylor University in Waco, Texas. She has experience in marketing and public relations and will move to New York City this fall for another public relations internship. Prior to joining Hallaron Media, Kulpinski was a Marketing Intern for LTE Media Group. She plans to graduate from Baylor in December 2013 before pursuing a career in public relations.
Hallaron Media (HM) provides advertising, public relations and marketing services for local, national and international clients. In addition to digital design, press releases, media distribution and social media strategy, HM also provides video and photography production and web development services. Hallaron Media has offices in Houston and The Woodlands, Texas.