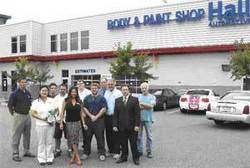 recognition from GEICO in August, it is really our customers who win because they are receiving quick and quality repairs when they most need it.
Virginia Beach, VA (PRWEB) September 26, 2008
After only a little more than a year as a GEICO AutoRepair Express (ARX) facility, Hall Body and Paint shop was the national ARX winner for the month of August. In order to compete for the honor, the body shop had to be a certified GEICO AutoRepair Express facility, do more than 60 repairs with GEICO customers monthly, and have a less than 5 day average completion or "cycle time." Hall Body and Paint shop shattered the requirements with 99 repaired vehicles and an average cycle time of 1.3 days, which was the second fastest in the country, missing out on first by only 0.2 days.
"We have nine employees on our GEICO AutoRepair Express team that made this honor a reality. From
Kathy James our receptionist to Jennifer Turner, our service advisor who works together with our on-site GEICO adjustor Jen Morgan, to Steve Mathis our Production Manager we make sure our GEICO customers can return to the comfort of their own vehicle as soon as possible," said Hall Body Shop Manager, Dave Locke. "Plus, we guarantee the work for as long as the customer owns the vehicle, so there is peace of mind for all involved."
The Hall Body and Paint Shop, owned by MileOne Automotive, has been servicing the Virginia Beach area for over 35 years and moved into their brand new state-of-the-art 40,000 square foot facility 4 years ago. Since becoming a GEICO ARX facility, GEICO customers make up a large percentage of their customers along with State Farm, Progressive, Allstate and Farmers, as well as many local and independent insurance providers. The body shop averages over 450 total vehicle repairs per month with a 5 day cycle time across all repairs. Customers waiting to meet with their insurance adjustor or one the Hall estimators will enjoy the spacious and immaculate customer lounge complete with plasma TV and refreshments. The Virginia Beach body shop is the only GEICO ARX in Hampton Roads, but customers in and around Chesapeake and Newport News can visit their local Hall Body Shops.
"As a group, the Hall Body Shops are committed to staying at the top of our game and I think the ARX award is proof of this commitment," said Gary Jackson, Director for all three Hall Body Shop locations. "While we may have "won" recognition from GEICO in August, it is really our customers who win because they are receiving quick and quality repairs when they most need it."
To schedule an estimate at Hall Body and Paint Shop, please contact 757-963-0900 or visit our information page for location and towing information. Shop hours are Monday through Friday 8:00AM until 5:30PM and Saturdays 8:00AM until 12:00PM.
About MileOne Automotive (http://www.mileone.com)
MileOne Automotive operates 65 retail automotive franchises representing 28 different brands and 9 collision centers in Pennsylvania, Maryland, North Carolina and Virginia with a focus on the Baltimore-Washington, Hampton Roads/Virginia Beach, Nags Head/Elizabeth City and Wilkes-Barre/Scranton major metro areas. MileOne.com allows customers to research new, used and fuel-efficient luxury, import and domestic cars and trucks, send information about vehicles to their mobile device, schedule service appointments, buy parts and accessories, play automotive games, and download automotive wallpaper and mobile ring tones. For more information or to find a quality MileOne dealership near you, please visit http://www.mileone.com.
###