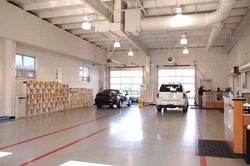 We've worked hard for nearly a year to add a Buick franchise to our Hall Pontiac GMC Hummer dealership
Baltimore, MD (PRWEB) June 27, 2008
MileOne Automotive the largest automotive retailer in the Mid-Atlantic, has acquired RK Auto Group's Buick franchise in Virginia Beach, VA. The franchise expands MileOne's current Hall Pontiac GMC Hummer dealership, which has been serving the Hampton Roads market for 35 years, and gives local consumers a wider range of new and used car options.
"We've worked hard for nearly a year to add a Buick franchise to our Hall Pontiac GMC Hummer dealership," said Fred Miller, President and Chief Operating Officer for MileOne's Hall Automotive platform. "We support General Motors in their efforts to consolidate the brands, in order to make our customers' shopping experiences easier and more satisfying."
General Motors is consolidating franchise locations around the country. Currently, over 70% of sales come from dealerships with multiple General Motors franchises. MileOne now operates three combination dealerships that include the Buick franchise - Motorworld in Wilkes-Barre, PA, Heritage Autopark just north of Baltimore, MD and the Virginia Beach location.
"We can't wait to meet our new family of Buick owners," said Jason Mays, Service Director at Hall Buick Pontiac GMC Hummer. "Our General Motors certified Master Technicians have been gearing up for this and will provide warranty assistance, quality information, education and service for anything from new tires to oil changes to major services, like engine and electrical issues. In addition, we can help our customers with any Buick accessory needs including navigation and entertainment systems. Our new customers will find that at Hall, we don't just have more cars, but we have great people and we are very proud to have Buick as part of our team."
Current Buick customers in the Virginia Beach area can bring their cars to the 3200 Virginia Beach Blvd. service location immediately for any service or warranty needs and will receive an unparalleled servicing experience from the team at Hall Buick Pontiac GMC Hummer. All Buick owners will also receive our new owner "No Strings Guarantee", which provides them with 2 free oil changes, lifetime free state inspections, $500 trade allowance, lifetime parts & service guarantee, free towing, 10% discount on parts and service, high school & college discounts. In addition, shoppers can test drive Buick's newest models ranging from the fully equipped V8 292 horsepower Lucerne Super luxury sedan to the brand new luxury crossover, the Enclave.
To schedule your first service appointment at the new location or to research new and used luxury Buicks, please visit us at http://buickpontiacgmcvirginiabeach.mileone.com.
About MileOne Automotive (http://www.mileone.com)
MileOne Automotive operates 65 retail automotive franchises representing 24 different brands and 9 collision centers in Pennsylvania, Maryland, North Carolina and Virginia with a focus on the Baltimore-Washington, Hampton Roads/Virginia Beach, Nags Head/Elizabeth City and Wilkes-Barre/Scranton major metro areas. MileOne.com allows customers to research new, used and fuel-efficient luxury, import and domestic cars and trucks, send information about vehicles to their mobile device, schedule service appointments, buy parts and accessories, play automotive games, and download automotive wallpaper and mobile ring tones. For more information or to find a quality MileOne dealership near you, please visit http://www.mileone.com.
###