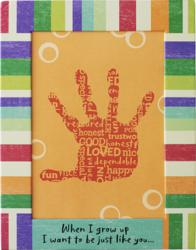 KANSAS CITY, Mo. (PRWEB) April 23, 2013
In time for Mother's Day, Hallmark introduces Magic Prints, a new line of greeting cards and gifts that allow kids to give mom or grandma a hand – their handprint – without a mess.
"Our research showed moms were looking for a personalized gift on Mother's Day," said Dan Woodall, product manager at Hallmark. "With Magic Prints, our goal was to create an easy, mess-free, stress-free way to let kids be a part of that process – especially for those who may not be old enough to write their names."
Using a Crayola® mess-free magic solution (clear and non-toxic), Magic Prints let users add a personal touch to uniquely designed cards and gifts by simply rubbing the colorless magic solution on hands, fingers, feet or even a pet's paws using the Magic Mitt applicator. After pressing down firmly on the specially formulated Magic Prints paper, users watch colorful patterns and messages magically appear. To clean up, users simply wipe the solution off skin and wash with soap and water.
Hallmark Magic Prints cards and gifts will be available for Mother's Day, Father's Day and any day.
Magic Prints Greetings
Mother's Day is the third-largest card-sending holiday in the United States, with 141 million cards exchanged annually. Approximately 65 percent of those cards are purchased within five days prior to the holiday. Whether bought weeks in advance or at the last minute, Magic Prints gives the recipient a moment in time – something to look back on when a little one isn't so little anymore.
The Magic Prints greeting card collection features 18 designs, with prices ranging from $4.99 to $7.99, and includes sentiments for a variety of special women. In addition to jumbo-sized cards, the selection includes greetings that are recordable, allowing users to capture a little voice along with a handprint, and then send to an aunt, grandma or mother figure across the miles.
Magic Prints Gifts
While little ones may not want to hold mom's hand forever, Magic Prints gifts let shoppers create something mom can hold on to for years to come. The Magic Prints line features 14 products that range in price from $9.95 to $24.95. A variety of frames are included in the line, such as shadow box frames, a fold-out frame for multiple handprints and magnet frames.
Each Magic Prints gift comes with at least two insert pages (an extra is included in case the first try doesn't go as planned) and at least one Magic Mitt that contains enough solution for two
child-sized hand prints.
Additional gifts in the line include a Keepsake Ornament, travel mugs, a journal and even gift bags that let kids put just as much thought and personal touch into the gift presentation as they do choosing and creating the gift itself.
Magic Prints cards and gifts are available at Hallmark Gold Crown® stores and participating Hallmark retailers nationwide. Visit http://www.hallmark.com/stores to find the nearest Hallmark Gold Crown store.
For more information about the new product line or to see Magic Prints in action, visit http://www.hallmark.com/magic-prints.
About Hallmark Cards, Inc.
Hallmark makes the world a more caring place by helping people express what's in their hearts and spend time together – a privilege few other companies in the world enjoy. Hallmark greeting cards and other products are found in more than 39,000 retail outlets in the U.S., including the network of flagship Hallmark Gold Crown® stores. The brand also reaches people online at Hallmark.com and on television through Hallmark Hall of Fame original movies and cable's top-rated Hallmark Channel. Worldwide, Hallmark offers products in more than 30 languages available in 100 countries. This privately held company is based in Kansas City, Mo., and is led by the third generation of the founding Hall family. Visit http://corporate.hallmark.com for more details.