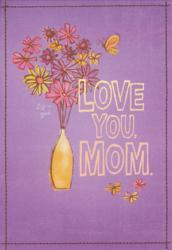 Kansas City, MO (PRWEB) May 02, 2013
This Mother's Day, Hallmark introduces new cards and gifts that make it easier than ever to celebrate Mom in a personal and meaningful way.
"We know from our research that moms want Mother's Day to be meaningful for them and for their families," said Dan Woodall, product manager at Hallmark. "Personal touches within cards or gifts, such as a child's handprint or a photograph, help make Mom feel loved and appreciated."
With more than 1,300 Mother's Day cards and a wide variety of customizable gifts, Hallmark makes it simple to make it personal for Mom or Grandma.
2013 Mother's Day Cards & Gifts
Hallmark Signature Collection
http://www.hallmark.com/card-collections/
This greeting card collection features 72 sophisticated, stylish designs with simple messages. Each card is handcrafted with beautiful papers, rich textures and sophisticated embellishments. Choose a design and sentiment that fits Mom's personality or current stage in life, like the "Mommy's Own Sippy Cup" card featuring a tropical adult beverage and a detachable wine charm for Mom to keep. Available at Hallmark Gold Crown® stores and participating Hallmark retailers.
Life is good® Cards
http://www.hallmark.com/card-collections/
Sometimes keeping it simple is the way to go. These eight new card designs from Hallmark's partnership with Life is good® feature simple graphic designs encouraging mom to relax and enjoy her day. Available at Hallmark Gold Crown stores.
Personalized Laser-Cut Cards
http://www.hallmark.com/mothers-day/
New Laser-Cut Personalized Cards on Hallmark.com allow a consumer to select an intricate laser-cut design and customize the insert page with photos and messages for mom, grandma, or any special woman. Hallmark's online sentiment library provides inspiration and help for crafting the perfect message, plus Hallmark.com will address, stamp and mail the cards to the sender or recipient. Available on Hallmark.com.
Pics 'n' Props
http://www.hallmark.com/pics-n-props/
A picture of the kids or grandkids is a surefire hit. For Mother's Day, kids can pose with hearts that say "We Love Mom" or "We Love Grandma." Just snap a photo of the kids holding the props and insert the printed picture into the coordinating frame or photo album. Hallmark's new Pics 'n' Props kits make photo-taking fun and create truly personal keepsakes. Available at Hallmark Gold Crown stores.
Magic Prints
http://www.hallmark.com/magic-prints
New Hallmark Magic Prints greeting cards and gifts come with a Crayola® mess-free magic solution, so kids can add a personal touch – their handprint – to specially designed products. The Magic Prints collection features 18 card designs and 14 specially designed frames and gifts to personalize. Users can add a personal touch by simply rubbing the safe, colorless magic solution on hands, fingers, feet or even a pet's paws using the Magic Mitt applicator. After pressing down firmly on the specially formulated Magic Prints paper, users watch colorful patterns and messages magically appear. It's a simple way to get kids involved in gift giving and show appreciation for Mom or Grandma. Available at Hallmark Gold Crown stores and participating Hallmark retailers.
One-of-a-Kind Creations
http://www.hallmark.com/one-of-a-kind-creations/
Hallmark partners with Shutterfly on a new way to create unique, personalized photo gifts. No more trying to cut or re-size photos to fit a special frame – Hallmark and Shutterfly make it simple with specially designed frames in stores and digital tools online. For Mother's Day, there are several appropriate designs, including die-cut word frames that read "MOM," "LOVE" or "HOME." Two different Family Tree designs showcase family photos, and other designs feature personal photos with a monogram, silhouette or sentiment about family life. Available at Hallmark Gold Crown stores.
To find the nearest Hallmark Gold Crown® store, use the store locator on Hallmark.com: http://www.hallmark.com/stores/.
About Hallmark Cards, Inc.
Hallmark makes the world a more caring place by helping people express what's in their hearts and spend time together – a privilege few other companies in the world enjoy. Hallmark greeting cards and other products are found in more than 39,000 retail outlets in the United States, including the network of flagship Hallmark Gold Crown® stores. The brand also reaches people online at Hallmark.com and on television through Hallmark Hall of Fame original movies and cable's top-rated Hallmark Channel. Worldwide, Hallmark offers products in more than 30 languages available in 100 countries. This privately held company is based in Kansas City, MO, and is led by the third generation of the founding Hall family. Visit http://corporate.hallmark.com for more details.