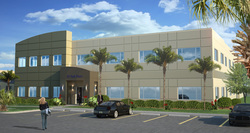 "Having well-respected companies like Brown & Brown embrace the principles of green building is further proof that earth friendly building is here to stay."
Clearwater, FL (PRWEB) December 9, 2009
Brown & Brown of Florida, Inc. has signed a lease agreement with Hallmark Development of Florida, Inc. for just under 10,000 square feet of Class A, LEED-Gold-registered commercial space in Clearwater. The new offices will house the Pinellas division of Brown & Brown of Florida, Inc., a subsidiary of one of the largest and most respected independent insurance intermediaries in the nation. The company is moving from its current location on US Highway 19 North in March, 2010.
Brown & Brown will occupy the second green building at Offices at Park Place at 83 Park Place Blvd. in Clearwater. Hallmark Development pre-leased half of the building (12,359 square feet) to GSA that will move in next month. Just under 2,500 square feet of customizable space remains for additional tenants and plans are underway for a third building.
"We're encouraged by the demand for green office space," said Paul Engelhardt, vice president of Hallmark Development. "Having well respected companies like Brown & Brown embrace the principles of green building is further proof that earth-friendly building is here to stay."
"Brown & Brown has been selling and servicing insurance products for our clients and prospects for 70 years. To be able to continue this quest in a green building is something we are very excited about," said Alex Shouppe, executive vice-president of Brown & Brown of Florida, Inc. "It has been a pleasure working with Hallmark Development through this process - their professionalism is second to none."
Hallmark's first building at Offices at Park Place received its LEED Gold Certification in October of last year. LEED Certification is pending on the building that Brown & Brown will be occupying and plans are underway for the third LEED-registered project on the site, which will offer an additional 12,359 square feet for lease or purchase.
LEED is a third-party certification program developed by the US Green Building Council. It is the nationally accepted benchmark for the design, construction and operation of high performance green buildings. LEED rates buildings in categories for sustainable sites, water efficiency, energy and atmosphere, materials and resources, and indoor environmental quality.
For more information, contact Paul Engelhardt at 727-539-7002 or Paul(at)HallmarkDevelopment(dot)net.
About Hallmark Development of Florida, Inc.
Hallmark Development of Florida is a diversified real estate development firm founded 44 years ago. It has developed roughly 630,000 square feet of office and service-center space in Florida's Pinellas County. It owns and operates the Airport Business Center with nearly 140 tenants across the street from the St. Petersburg/Clearwater International Airport on 140th Avenue North in Clearwater. In addition, Hallmark manages several other commercial properties, including Roosevelt Lakes Office Park in the Feather Sound area and Enterprise Office Center in the Countryside area, both in Pinellas County. For more information on Hallmark Development, Inc., call (727) 539-7002 or visit http://www.HallmarkDevelopment.net.
About Brown & Brown of Florida, Inc.
Brown & Brown of Florida, Inc. is a full service insurance agency that markets and sells property/casualty insurance and employee benefit products and services. Brown & Brown offers a broad range of insurance and reinsurance products and services, as well as risk management, third party administration, managed health care and Medicare set-aside services and programs. The company provides service to business, public entity, individual, trade and professional association clients. Brown and Brown of Florida, Inc. is a subsidiary of Brown & Brown Inc. For more information about Brown & Brown of Florida, Inc., call (727) 461-6044 or visit http://www.bbinsurance.com.
###