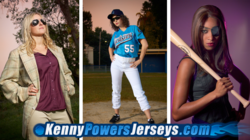 The sexy shots... bring new meaning to the word curves in baseball and deliver an early Halloween treat to guys everywhere.
Myrtle Beach, South Carolina (PRWEB) October 21, 2012
Has anyone ever wondered what Kenny Powers would look like if he were a sexy female model? Well, probably not, but no one is complaining about these sizzling new photos by Snappyjeff Photography and the guys over at Kenny Powers Jerseys dot com.
The sexy shots feature three beautiful up-and-coming models in full character garb portraying their male counterparts from HBO's Eastbound & Down series: Danny McBride's Kenny Powers, Will Ferrell's Ashley Schaeffer, and Craig Robinson's Reg Mackworthy—eye patch and all.
The results bring new meaning to the word "curves" in baseball and deliver an early Halloween treat to guys everywhere.
Aside from the authentic Myrtle Beach Mermen uniform though, "Sexy Kenny Powers" looks almost nothing like the egotistical, foul-mouthed, short-tempered, heavyset pitcher attempting a professional baseball comeback.
Guys who do want to look like the Bulletproof Tiger for Halloween, however, can get their hands on a genuine Kenny Powers outfit just like the one worn by McBride and Sexy Kenny Powers.
The Eastbound & Down officially licensed Kenny Powers costume comes with a number 55 Mermen jersey shirt, a mullet wig and Mermen cap combination, plus a KP costume goatee. Those seeking an even more authentic Kenny Powers experience should check out the exclusive Kenny Powers Ultimate Costume Set.
It includes a field-quality stitched number 55 Myrtle Beach Mermen button-up jersey, white baseball pants with blue socks, a Mermen Flex-Fit cap, curly Kenny Powers wig, Oakley-style sunglasses, and a costume goatee.
And it rocks. Just don't call it your run-of-the-mill Halloween costume.
"It's not a mere costume," says Chris Rosinski, co-owner of Kenny Powers Jerseys, which offers a full collection of Myrtle Beach Mermen apparel. "It's a big league-quality uniform with a license to throw verbal heat all night long at your Halloween party."
"Demand has been even stronger than anticipated," adds Rosinski, who also co-owns a variety of niche Halloween sites including his latest that sells officially licensed LMFAO costume sets. "We will definitely sell out in October as we only produced limited quantities for diehard fans."
Kenny Powers would be proud.