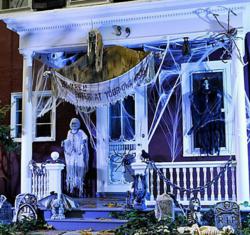 Give trick-or-treaters and party guests a gothic greeting with a scary landscape. Line the yard with tombstones, Halloween mini-fences and signs to create a wicked woodland.
Rockaway, New Jersey (PRWEB) September 20, 2012
Halloween is rapidly approaching, but fear not - the leading Halloween retailer, Party City, is sharing ways to celebrate Halloween with all the chills and thrills. September is the perfect time to transform any home into a haunted house and plan a frightfully fun Halloween party. To gear up for the second largest retail holiday, according to the National Retail Federation (NRF), families can begin decorating their home with fall flair and spooky scenery. Prepping for the spookiest month of the year doesn't have to be a terrifying task with these easy tips from Party City's Halloween experts:
The Grave Outdoors: Give trick-or-treaters and party guests a gothic greeting with a scary landscape. Line the yard with tombstones, Halloween mini-fences and signs to create a wicked woodland. Place zombie arms and skeleton parts next to tombstones so they emerge from the grave, and scatter dead flowers across the lawn to enhance the cemetery-like setting. For a final touch, use a fog machine to fill the entryway with a frightful haze.
Sophisticated Spooky: The coffee table, mantle and sofa are all essential set pieces on the Halloween stage. Play up the trend of chic simplicity by adding a few understated touches that reflect a sophisticated style. Remove everyday centerpieces, picture frames and vases, and replace them with trendy but terrifying decor, like eye-catching ravens and petrifying paper fans and lanterns. Instantly antiquate the scene by covering all surfaces with webbing, gauze and moss. Weave spiders and other creepy crawlers into the webbing for a full infestation. Exchanging family pictures with black and white photos from past centuries creates a spirited scene.
Terrifying Tabletops: Draw attention to the dining area with creative centerpieces of weathered tombstones, skull groupings and other creepy crawlers. To achieve a more upscale look, place them in clear glass cake platters and bell jars. Create eerie unexpected placeholders by putting name cards inside of vampire fangs, atop a small coffin or wrapped around a mini skeleton. Dress up the table by draping webbing off the sides and along candelabras and gauntlets.
The Monster Mash: Monsters have made a comeback this year in both blockbuster hits, like "Hotel Transylvania" and "Frankenweenie", and as a kids Halloween party theme. Frankenstein, Dracula, mummies and werewolves creep into Halloween party supplies like tableware, favors and sweet treats. Bright colors like lime green, purple, orange and yellow make this monster revival full of fun instead of fright.
Eerie Edibles: Guests will go batty over a display of to-die-for desserts. Spiders, candy eyeballs and tombstones turn cupcakes into creepy confections. For a simple but sweet decorating solution, cupcake costumes instantly transform ready-made cupcakes into classic Halloween characters. These ghoulish gourmet cupcakes mimic the monsters of movies like "Monsters and Aliens" and "Monsters Inc.", with no decorating skills required. Food coloring mist in green or black adds instant eeriness to any dish. Place witch fingers combing through candy to create a cheerfully chilling bowl of toil and trouble.
Pick Your Poison: Eat, drink and be scary with a shocktails bar of screamingly scrumptious thirst-chasers. For positively Pinterest-worthy cocktails, garnish drinks with olives and lychee nuts to make eyeballs. Dress up glasses with dreadful details like dripping blood curdling red syrup around the glass rims and black licorice strips over the edges of glasses for spider legs. Disguise bottles with labels of "Witch's Potion" and "Raven's Blood Brew." Serve up a punchbowl of sinful sangria and spiked cider for any bloodsuckers at the party.
For more party examples, Halloween decorating ideas, and party supplies, visit PartyCity.com or a local Party City store.
ABOUT PARTY CITY
Party City Holdings Inc. designs, manufactures, contracts for manufacture and distributes party goods, including paper and plastic tableware, metallic balloons, accessories, novelties, gifts, stationery and Halloween costumes, and is North America's No. 1 party retailer with more than 750 company-owned and franchise locations throughout the United States, Canada and Puerto Rico. Headquartered in Rockaway, N.J., Party City became part of the Amscan Holdings, Inc., family in 2005. With their worldwide facilities in Asia, Europe and Australia, as well as distribution centers in the Americas, the merger has made it possible to design, manufacture and distribute products in the United States and overseas. The vision of providing more party for less has made Party City the largest specialty party retailer and premiere Halloween destination in North America.