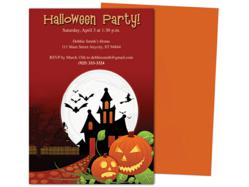 I recently created my invitation for my upcoming halloween costume party, and I was so pleased with the result which literally only took me 5 minutes to do!
San Francisco, CA (PRWEB) October 10, 2012
The fall season is among us once again and Halloween can be an exciting part of any child's life and even fun for adults. There are a huge amount of halloween related parties that are thrown by both kids and adults today. The popularity of this festive holiday has always been around since it is a day that people can dress up in costume and be incognito.
Party decorations can range from table wear to those creepy, crawly items people place in front of houses as trick or treaters come and knock on doorsteps. Party invitations create a mood for this kind of party. It helps your invitees get a little glimpse of what is to come at the event. Using appropriately themed invites is a good way to get people exciting about your event.
Now everyone can make invitations via the use of halloween invitation templates. The recently opened Celebrations of Life Store offers the largest variety of templates compatible with Microsoft Word®, OpenOffice®, Publisher®, and Apple iWork Pages®. These applications are installed on virtually every computer for both MAC and Windows environments so editing the software related template is easy and fast.
The Celebrations of Life Store provides various popular layouts for Halloween inspired designs. Anything that can be ordered through a professional printing or card shop can now be created with the do-it-yourself method with the use of a template. This concept is an amazing time saver as well as provide the consumer with cost savings.
When consumers choose to create their own printed material with templates, there are more printing options available. Customers are able to print the finished invite on any home printer or choose to go to an office supply store. The Celebrations of Life Store also provide professional printing services but customers are not obligated to use the service.
"Our halloween invitations have been so well received and our customers love the idea of being able to create their own invitations from their computer. They are also able to reuse the templates as often as they like, therefore saving even more money!", shares Carole Galassi, CEO and founder.
The new line of Halloween inspired template designs are offered in a vertical, horizontal, and square sizing. There are also matching envelopes that can be purchased separately, if desired.
"I recently created my invitation for my upcoming halloween costume party, and I was so pleased with the result which literally only took me 5 minutes to do! The result looked like I hired a professional designer to do it for me at a fraction of the price. Needless to say, I'm thrilled!", reports customer, Lisa from Michigan.
The Celebrations of Life Store (CelebrationsOfLifeStore.com) is in the business of creating templates for all of life events that are celebrated. Templates are downloaded immediately after purchase right to the customer's computer. Customer support is also provided to assist anyone with any issues or questions.