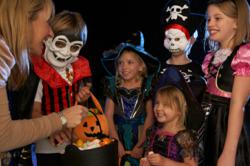 Warning parents, drivers and homeowners about the possible dangers associated with Halloween
Sandy, UT (PRWEB) October 23, 2012
With the upcoming Halloween holiday, Craig Swapp & Associates is encouraging parents, drivers and homeowners to prepare now for possible safety and liability dangers associated with children celebrating Halloween.
As part of his "Kids Safe" public relations program, Swapp has posted Halloween safety tips on their blog, which features a number of tips regarding safe costumes, driving the night of Halloween, and possible liability hazards found outside the home.
"In our blog, we address the importance of choosing costumes that are fire retardant and can be easily seen by drivers. We also warn against wearing lengthy costumes which may cause the child to trip or allowing the child to carry props that may be potentially dangerous, such as a sword or a spear," explains Swapp. "We also warn drivers to be especially cautious on Halloween night – to drive slowly and keep an eye open for children darting out into the street."
Swapp is particularly concerned about premises liability. "A homeowner may like the idea of making his or her house into a darkened spook alley. However, we warn against not lighting the exterior of your house or having a yard full of obstructions – both situations could cause a child to fall and be seriously hurt."
He also encourages pet-owners to keep their animals away from the trick-or-treaters. "Dogs and cats may be aggravated or frightened by the arrival of costumed children shouting 'Trick or Treat.' If your dog is naturally aggressive, it should be properly restrained and kept away from visitors."
Says Managing Attorney Craig Swapp, "Millions of children and adults look forward to Halloween every year. It's a night accented by spooky costumes, scary masks, and darkened front porches decorated with lit pumpkins. Unfortunately, we see too many news stories concerning children injured this time of year due to unsafe costumes, inattentive drivers, and dangerous houses. We feel it's important to remind everyone to be particularly careful during this Halloween season."
To further his campaign for Halloween safety, personal injury lawyer Craig Swapp will be a featured guest on the "Good Things Utah" program (KTVX, Salt Lake City) on Thursday, October 25 at 10 a.m. "We're hoping to get the message out that Halloween should be not only fun, but safe," he concludes.
The Law Firm of Craig Swapp & Associates handles consumer law cases, including serious personal injury, wrongful death, vehicle or pedestrian accidents, animal attacks, dangerous drugs, defective medical devices, Social Security Disability, bankruptcy, and DUI/criminal defense. For more information about any of the firm's consumer practice areas, please visit http://www.craigswapp.com, or call 1-800-404-9000 for a free consultation.
# # #