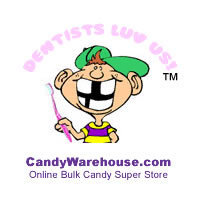 as in any fast growing business, it's an everyday challenge to keep up with the demand and provide consistent, superior service to all our new and continuing customers.
Irwindale, CA (PRWEB) October 4, 2007
CandyWarehouse.com, Inc. has been chosen as one of the fastest growing companies in America. Ranked at number 2,217 among America's top companies, CandyWarehouse is the top Internet candy store in the world. Get the full story about the Inc. 5000 at Inc. Magazine. The CW candy elves continue to work hard to make their website the best, and deliver sensational sweets every day as they head into the busy Halloween candy season.
The Inc. 5,000 is ranked according to percentage revenue growth from 2003 through 2006. To qualify, companies must have been founded and generating revenue by the first week of 2003, and therefore able to show four full calendar years of sales. Additionally, they had to be U.S.-based, privately held, and independent--not subsidiaries or divisions of other companies--as of December 31, 2006. (Since then, a number of companies on the list have gone public or been acquired.) Revenue in 2003 must have been at least $200,000, and revenue in 2006 must have been at least $2 million.
President of CandyWarehouse.com - Christopher Pratt is one business person who rose above a humble beginning with great ideas. In 1998, Christopher began to run his bulk candy business out of his Pasadena apartment. He figured out where to source the merchandise shortly after receiving his first order online and added a nice label. Now he picks out great candy items well before the season and is currently offering more than 2500 fresh candy item choices. Christopher relates "as in any fast growing business, it's an everyday challenge to keep up with the demand and provide consistent, superior service to all our new and continuing customers."
An Internet based store results in high inventory turnover and freshness of the candy, great pricing with low overhead, and an extensive amount of choices that online shoppers now expect. Nostalgic candy customers can recreate a childhood memory by purchasing some of the old fashioned candy brands that have become harder and harder to find. They will also find almost any novelty candy that they seek, for those special occasions like thank you candy, pirate candy, or even chocolate cigars.
Planning a wedding takes much consideration. For something spectacular, consider featuring a candy buffet at your reception. CandyWarehouse.com has conveniently arranged all of their candy by color, which will make decorating within the bridal theme very easy. This is also the new trend in holiday center piece decorations. It will be amazingly simple for you to find your orange and black candy for Halloween this year!
And perfect for Halloween handouts, CandyWarehouse offers yummy Halloween candy corn packaged in spooky packets! Packet graphics include 5 scary designs: black cat, ghost, witch on a broom stick, skeleton, and bat. Christopher says "this high quality candy corn from Zachary Confections is made with real honey. In fact, this candy corn received 2 prestigious excellence awards last year: 2006 ChefsBest and 2006 American Culinary Institute". It is not crumbly and dry like other brands.... it is a rich and smooth candy corn.
Christopher sees continued strong growth as Americans love their candy treats and the busy season is upon him with Halloween sweets, Christmas candy canes, Valentines hearts, and Easter jelly beans all top sellers along with the steady interest in nostalgic and novelty candy items.
###