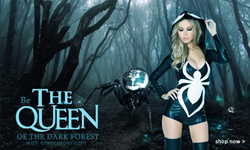 Dare to be the Envy
Los Angeles, CA (PRWEB) August 25, 2014
Envy Corner, one of the major online retail stores of sexy Halloween costumes for women, is starting another round of voting for the most popular and sexy costumes this year. Their social media fans of Facebook, Twitter and Pinterest are ready to vote for the 5 most popular complete Halloween costume sets for this Halloween out of the 15 most watched ones.
This is the third consecutive year that Envy Corner has let its social media fans select the most popular women's costumes for Halloween.
Also, since most of the work in looking for costumes will already be done, consumers will not need to look for months to choose their Halloween costume. The newly released costumes will be just a click away from their website http://www.envycorner.com
Today, Envy Corner is releasing the top 15 most watched, newly added Halloween costumes thus far and they are as follows:
1. Four-Piece Seductive Pirate Captain Costume RM4527
2. Heavenly Goddess Costume FP553452
3. Naughty RN Nurse Costume BW916
4. American Made Hero Costume FP554612
5. One Piece Cherokee Princess Costume RM4470
6. Naughty Ship Wench Costume RM4529
7. Four Piece Naughty Sea Maiden Costume RM4522
8. Snow Viking Warrior Costume JVCA141
9. Sexy Wolf Silver Romper JVCS285
10. Sexy Eskimo Costume JVCS102
11. Silver Leopard Cat Suit Costume JVCA143
12. Nicky Mouse Costume JVCS262
13. Arachnid Babe Catsuit JVCA105
14. Indian Fringe Top & Skirt JVCS220
15. Sexy Red Spider Costume for Women RM4489
Envy Corner currently has special free shipping deals for domestic and international orders not only on costumes but also sexy club dresses, lingerie, Rave Wear, and bikinis. Be the Envy.