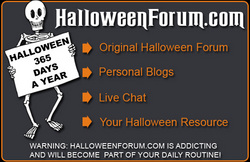 Halloween Forum continues to be busy and celebrates Halloween 365 days a year.
(PRWEB) October 15, 2009
HalloweenForum.com has become a leading destination for Halloween fans to find inexpensive solutions for Halloween costumes and decorating efforts. Because Halloween falls on a Saturday this year, the site anticipates heavier-than-normal traffic – especially in light of the current economic situation.
According to Larry McKenzie, the site founder, HalloweenForum.com was launched in 2002 as the premiere online community for Halloween and home-haunt enthusiasts to discuss and share their ideas and experiences all year long.
"HalloweenForum.com is the most popular Halloween discussion community online," McKenzie said. "Halloween Forum continues to be busy and celebrates Halloween 365 days a year."
People visit the forum to:

Get ideas for what costumes and props to buy
Find out what is popular
Find unique ideas that are hard to find
Find out how to build props or sew costumes
Find the best places to buy costumes and props
Members share promotions and coupons that they find to get the best deals possible
"Halloween brings neighbors and family together," McKenzie said. "Our community has become a large online family. I am honored that many members even call me 'dad.' "
For more information and to join the community online, please make sure to visit http://www.HalloweenForum.com. Props, costume ideas, party ideas, recipes, crafts, music, photos, links, coupons, humor, blogs and much more are available at the Web site.
"We do what we can to include a little bit of all the different components that make it such a great day," McKenzie said.
HalloweenForum.com contact:
Larry McKenzie
702-421-2699
###