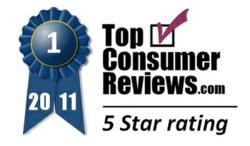 We're very pleased to receive TopConsumerReviews.com's highest rating... Our website caters to the customer and we're happy to be recognized for our efforts.
Overland Park, KS (PRWEB) October 05, 2011
TopConsumerReviews.com recently awarded their highest 5-star rating to Costume Supercenter, an industry leader in online costume retailers.
"We're very pleased to receive TopConsumerReviews.com's highest rating," said Steve Mandell, CEO of Costume Supercenter. "It's great to receive acknowledgement for the hard work we've put into making online costume shopping both convenient and affordable. We're committed to providing a costume selection that meets the needs of our shoppers. From clear, easy to see pictures, descriptions, and a wide selection – our website caters to the customer and we're happy to be recognized for our efforts."
Halloween has become a more elaborate event than 20 years ago. These days, both kids and adults enjoy getting dressed up to attend parties, enter contests, and share in the festivities. Unfortunately, many retail stores have high prices and a limited selection of costumes to choose from. Online Halloween costume stores, however, provide convenient shopping, a huge selection of costumes and accessories, and much better pricing.
"Costume Supercenter has a huge selection of quality Halloween costumes at very affordable prices," explained Brian Dolezal, of TopConsumerReviews.com, LLC. "Their website is easy to navigate and well organized, with an extensive list of search options available to meet anyone's costume needs. In addition to a wide range of costumes for men, women, couples, teens, and children, they also have a great variety of costume accessories such as wigs, shoes, and jewelry. With a no hassle return policy and free shipping on exchanges, Costume Supercenter sets the standard in online Halloween costume stores."
To find out more about Costume Supercenter and other Halloween Costume stores, including reviews and comparison rankings, please visit the Halloween Costumes category of TopConsumerReviews.com at http://www.topconsumerreviews.com/halloweencostumes.
About Costume Supercenter
In 2005, Steve Mandell, founder of Party City decided to leverage his expertise in the Halloween and costume business to create a costume website that makes purchasing costumes simple and convenient. Mandell recognized the need for increased selections, high quality and more fashion savvy designs in the marketplace and that costumes should be available year round at low discount prices. The online store features over 4,000 different costumes and accessories for people ages 0-100, and pets too! Unlike other retailers and e-tailers, Costume SuperCenter proudly offers most costumes in plus sizes too. Costume SuperCenter also has the largest selection of hats, wigs, masks, accessories and make-up, as well as seasonal holiday decorations and props available, all on one site.
About TopConsumerReviews.com
TopConsumerReviews.com, LLC is a leading provider of independent reviews and rankings of hundreds of consumer products and services. From acne treatments and passports, to the best payday loans and structured settlements, TopConsumerReviews.com delivers in-depth product evaluations in order to make purchasing decisions easier.
###