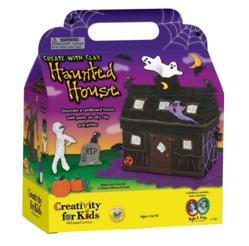 Cleveland, Ohio (PRWEB) October 12, 2011
Creativity for Kids expands its Halloween line with two new kits that provide hauntingly fun projects. The new Create with Clay Haunted House is a spook-tacular way to make a decoration for your house during Halloween. The embossed cardboard house comes ready to decorate with air-dry clay and washable paint in haunting colors to conjure up ghosts and pumpkins, spider webs, tombstones and more. Display the 7" tall house on a table for trick or treating season. $21.99, age 5 & up.
Get ready for Halloween fun with spooktacular craft kits from Creativity for Kids. Gather the family together for some Shrinky Dinks® Halloween Fun and create a unique decoration for your house. Make 30 Halloween-themed genuine Shrinky Dinks® ornaments to display on an eerie black velvet tree that's 11" tall. Color in the designs with the colored pencils included in the kit, then bake and shrink your ornaments. Once they're done, arrange them on the tree however you like for a decoration that's sure to delight all the ghosts and goblins in the neighborhood. Shrinky Dinks® Halloween Fun has a suggested retail price of $16.99 and is a Fun Family Craft project (age 7 & up can do the activity without adult assistance).
It's so much fun to decorate your face and hair for Halloween and other times during the year! Face & Hair Painting Studio includes high quality cosmetic-grade face crayons in bright colors to draw designs and patterns on your face. Add body glitter for some sparkle. Then use the hair tints to decorate your hair with streaks of color. There's a fully illustrated guide that provides plenty of ideas and inspiration to come up with your own amazing face and hair creations. All the materials are fully washable and non-toxic. This kit is for kids age 5 & up and has a suggested retail price of $21.99.
Halloween is the perfect time of year for masks, so make some of your own to wear while trick or treating with the new Mask Making kit. Transform plaster gauze into masks that are scary, pretty, fun – however you want it be to match your costume. A form's provided to make full or half masks – then decorate with paint, feathers, rhinestones, glitter and other crafting elements. Great activity to do with friends since the kit makes 5 masks. Designed for kids age 7 & up, with a suggested retail price of $19.99.
Create a bunch of scary and fantastic Shrinky Dinks® monsters with the Shrinky Dinks® Monster Lab kit. Color in the 50+ Shrinky Dinks® designs using Faber-Castell color EcoPencils, then shrink your pieces in the oven. Assemble the mix and match parts with chenille stems and wiggly eyes to make your creatures. Place your monsters inside the 3-D pop-up laboratory for play and to display. This kit has a suggested retail price of $19.99 and is for ages 7 & up.
All Creativity for Kids products are fully compliant with current U.S. toy safety standards.
2011 is a special year for our company as we celebrate 35 years of Creativity for Kids! We are proud to consistently provide a quality experience in all areas of business, particularly in developing innovative, high quality arts & crafts products for children. Our products are available all over the world, giving children the opportunity to create, pretend, and play in ways that encourage self-expression and build self-esteem.
###