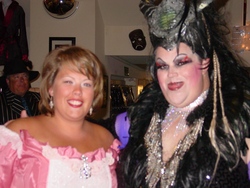 People are sick of saving their money and watching their 401K's, so they are planning to have a little fun at this time of year
Philadelphia, PA (PRWEB) October 22, 2009
Sales and rentals on costumes and related Halloween items are dramatically up from previous years at Pierre's Costumes. Halloween falls on a Saturday this year, and people are obviously planning on partying.
People are starting to relax and spend money on non-essential items again. They feel that it's "OK" for them to have some fun and Halloween is just the excuse. As the economists predict that the economy is on the rebound, a great indicator is the early rental reservations and increased traffic at costume shops.
"People are sick of saving their money and watching their 401K's, so they are planning to have a little fun at this time of year" said Rich Williamson, President of Pierre's Costumes.
"We had seen a slowing of people celebrating Halloween in the past couple of years, but this year our costume business is stronger than ever." Williamson continued. The items are buying and renting aren't discount low-end costumes either, they are high-end costumes and quality accessories. People seem to be appreciating value.
The fact that Halloween falls on a Saturday means it will be a large party weekend and if the lines and crowds at Pierre's Costumes are a great indicator of how many Halloween parties there will be.
The largest segment of customers found at the costume shop seem to be middle aged married types. There are still the college students and 20 something's, but the 35-60 year old crowd is taking on Halloween in style. Perhaps it's because they are the ones who need to have fun the most, and want to start enjoying themselves again.
One thing is for sure, Halloween is going to be busy for some, and a very interesting indicator of the upcoming economic upturn.
About Pierre's Costumes. Pierre's Costumes was founded in 1943. They have been creating original costumes and mascots for longer than most costume companies. Pierre's provides costumes to TV, Film, Theatre, Parades, Sports Teams, Parks, and the public. Pierre's not only rents and sells costumes but also creates on-of-a-kind costumes too. They are located in the historic Old City section of Philadelphia. Company web site: Costumers.com
Contact: Richard Williamson - Pierre's Costumes 215-925-7121
###