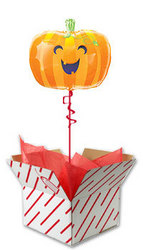 Halifax, United Kingdom (PRWEB) October 8, 2008
It's the spookiest night of the year - Halloween, and what better excuse for a ghostly celebration. So, it's time to dig out pumpkins, wake up the zombies and get ready for the creepiest party of the year.
To get into the true 'spirit' of Halloween this year, Big Fat Balloons have some great ideas for Halloween gifts, decorations and trick or treat surprises that will have everyone quaking in their boots.
For an extra special trick, everyone can now scare their friends and relatives silly by having a spooky gift delivered direct their door.
Halloween Cute Pumpkin Balloon: single balloon £13.99, 3 x balloons bouquet £23.99
Everyone needs a pumpkin on Halloween and this Cute Pumpkin Balloon is a safe alternative to a real pumpkin and candle. Ideal as a trick or treat accessory, this pumpkin balloon is fun and cute rather than spooky and scary - great for younger children.
Can of Milk Chocolate Spiders: £3.75
For those who fancy tricking and treating someone this Halloween then this creepy can of tasty chocolate spiders is the perfect gift. They can be used as ghoulish snack for party guests or for handing out to any trick or treaters who may come knocking.
Halloween Ghost Balloon Gift: single balloon £11.99; 3 x balloons bouquet £21.99
Fun and spooky, this Halloween balloon is just waiting to jump out at some unsuspecting child and shout 'Boooo to you!' Great as a trick or treat accessory, this shimmering, silver ghost on a black background, will make a super-spooky gift.
Sophisticated scariness - Halloween Tattoo Balloon gift: single balloon £11.99; 3 x balloons bouquet £21.99
For those planning to throw a more sophisticated Halloween party, then Big Fat Balloons have just the decoration. Unusually square shaped, these Halloween Tattoo Balloons have a gothic style black, white and grey design that is spooky yet sophisticated. This Tattoo balloon, makes a great and unusual gift for anyone hosting a Halloween party.
For further press information please contact Sophie Baxter:
Tel: 01422 300 654
Editor's Notes:
http://www.BigFatBalloons.co.uk is an online balloons, teddy bears and gifts delivery store, founded in 2006. It provides a wide range of helium balloons and gifts for all occasions. All available for next day, UK delivery.
###