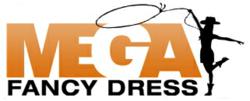 Halloween is by far our busiest time. Adult costumes generally sell better than children's, but the gap is steadily closing each Halloween
(PRWEB UK) 29 August 2012
Halloween, the annual spooky fancy dress phenomenon, has been most widely embraced in America, but each year the event is having a bigger global impact. This can be especially seen in the UK, where more children dress-up to go trick or treating each year, and more neighborhoods deck their houses with spooky Halloween decorations.
It seems that movies are a major source of inspiration for children and influence which characters they would like to dress up as, especially for Halloween. Mega Fancy Dress noticed that last year, the extremely popular finale to the 'Harry Potter' series drove many kids to dress-up as 'Harry Potter' characters for Halloween.
Mega Fancy Dress has faced increased annual demand during Halloween season when compared to the previous year. On the Mega Fancy Dress website you can search easy to navigate categories, such as vampire costumes, zombie costumes and witch outfits. Sales Director, Natasha Amin, states "Halloween is by far our busiest time. Each year more people want something to celebrate, and be excited about, so it seems they use Halloween as an excuse! Adult costumes generally sell better than children's, but the gap is steadily closing each Halloween season."
A huge range of competitively-priced Halloween fancy dress costumes are available at Mega Fancy Dress to accommodate all shapes, sizes and budgets. The traditional Halloween costumes are always popular: vampires, witches, zombies, skeletons and ghosts available in a variety of different styles. Other hot costumes from the company include: officially-licensed Disney princesses (including the brand new 'Merida' costume from Disney Pixar's 'Brave' film), Harry Potter costumes, and a fantastic superhero range (especially trendy after the release of superhero films 'The Avengers', 'The Amazing Spider-Man' and 'The Dark Knight Rises').
With films already having a major influence on the choices that kids are making when asking for their fancy dress costumes, Mega Fancy Dress wonders whether this year's films will make an impact. Set for release in October 2012 are two new movies 'Frankenweenie' and 'Hotel Transylvania'. Director of popular children's Halloween films 'The Nightmare Before Christmas' and 'Corpse Bride', Tim Burton, is set to release 'Frankenweenie' on October 17 – exactly 2 weeks before Halloween hits on October 31. Tim Burton's film is a Halloween animated children's comedy featuring Victor, a 'zombie' dog. 'Hotel Transylvania' is another major 2012 Halloween movie. The animated film stars Adam Sandler as a hotel-managing 'Dracula' who becomes overprotective when a boy discovers the resort and pursues his teen-aged daughter. Both films look set to get children excited and inspire their imaginations for dressing up at Halloween.
About Mega Fancy Dress
Mega Fancy Dress is a UK based company that provides Fancy Dress Costumes and accessories to online customers. Since 2006, Mega Fancy Dress has consistently offered the best quality fancy dress costumes at some of the most competitive prices on the market. Mega Fancy Dress is a Top 5 Google UK searched online fancy dress company.
Follow Mega Fancy Dress:
On Twitter: @ megafancydress
On Facebook: megafancydresscostumes
For more information visit http://www.megafancydress.co.uk or call +44 (0)845 634 4193