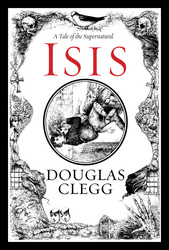 Douglas Clegg's Isis is a haunting beauty of a tale as chilling and dark as the shadows on an October night.
New York, NY (PRWEB) October 1, 2009
ISIS, the masterful horror novel by New York Times bestselling author Douglas Clegg, goes on-sale in October --just in time for Halloween.
"Douglas Clegg's Isis is a haunting beauty of a tale as chilling and dark as the shadows on an October night."
-Christine Feehan, New York Times bestselling author of Murder Game
"Clegg's stories can chill the spine so effectively that the reader should keep paramedics on standby."
-Dean Koontz
There is something out there that scares you. It may not be overtly menacing and you may not even know it's there until you feel the little hairs on your neck rise. Douglas Clegg, winner of the Bram Stoker Award, the International Horror Guild Award, and the Shocker Award, is a master at knowing what scares us. He understands that sometimes quiet is scarier than loud, and unease and fear are more powerful than an all-out assault.
This week, Vanguard Press will publish one of the darkest, most intriguing tales of 2009, Douglas Clegg's unforgettable novella, ISIS (A Vanguard Press hardcover; on-sale: September 29, 2009; $15.95). Already celebrated as one of the best horror writers of his generation, Douglas Clegg has also been hailed by renowned author Sherrilyn Kenyon as "a master of the genre."
Bookstores across the nation and key publishing websites have already marked the on-sale date on their calendars as pre-orders come in. Says Roger Cooper, Vice-President and Publisher at Vanguard Press, of his decision to acquire the novella: "I'm proud to have published authors such as Dean Koontz and Stephen King in the past. Not since then have I been so excited about a book as spellbinding and memorable as Douglas Clegg's ISIS."
Featuring stunning illustrations by Glenn Chadbourne, illustrator of Stephen King's Secretary of Dreams, ISIS is the tale of four children who move with their mother to an old family estate in England. Isis, the youngest, is very close to her brother, Harvey, and they while away their hours playing on the coastal bluffs, whispering about the family crypt and listening to the tales the groundskeeper Old Marsh tells of dead who walk among the living…coming to claim what is theirs.
But when a terrible accident leaves Isis clinging for her life from a high window, it is Harvey who pays the ultimate price, sacrificing himself to cushion Isis's fall. Isis feels the grief of Harvey's death like a searing pain at the center of her soul--and a deep rage is born.
Missing her brother too much to allow the tragedy of his death to be washed away by forgiveness, Isis becomes convinced that the world is backward, that the good are dead while the evil live--and that the only way to right that wrong is to try to bring Harvey back from the dead. But as she learned from Old Marsh, death has a price, and all who bargain with the dead must pay it…
FlashGameLicense.com has also created a "Spot the Difference" ISIS game that features Chadbourne's art and has already been played over 1.7 million times in less than one month. Says Adam Schroeder, co-founder of FlashGameLicense.com: "We expected the game to hit a million plays within the first two months--but the fact that it reached a million plays just one week after release is amazing. At least 10% of the players are moving on to visit Doug's site after they play the game so it's generating a lot of interest in the book. The excitement is building and we are really pleased with the way fans are gravitating to the game and passing it along!"
Douglas Clegg is available for interview. Email Elena at elena (at) wunderkind-pr (dot) com to book an interview or request a book for review. And check out http://www.isisthebook.com for more Halloween treats!
Clegg is The New York Times bestselling author of The Priest of Blood, Afterlife, and The Hour Before Dark, among other novels. His short story collection, The Machinery of Night, won a Shocker Award; and his first collection, The Nightmare Chronicles, won both the Bram Stoker Award and the International Horror Guild Award. He lives with his husband, Raul, in New England, with a small menagerie of rescued animals.
ISIS
By Douglas Clegg
A Vanguard Press hardcover, $14.95/128 pgs
ISBN: 978-1-59315-540-7
ON-SALE: September 29, 2009
For more information or to schedule an interview with Douglas Clegg, contact:
Elena Stokes, President-Wunderkind PR, cell: 917-887-0784
--Join the 1.7 million others who have already played the ISIS game at http://www.isisthebook.com/game.php
--Watch the trailer on youtube at
http://www.youtube.com/watch?v=dE-tvPo0jJw&feature=player_embedded
# # #