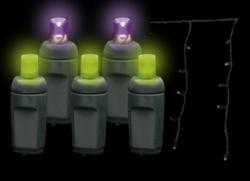 NEW LED Halloween lights you won't find anywhere else!
Plymouth, MN (PRWEB) September 30, 2011
LED Holiday Lighting, a leading online LED lighting retailer, is proud to announce the launch of its new LED Halloween lighting product line. LED Holiday Lighting brings new LED Halloween lighting products for 2011 you won't find anywhere else. The new Halloween lighting line features 5mm LED light strings, 5mm LED icicle lights, G12 LED light animated Halloween signs, and incandescent Halloween light up decorations.
With Halloween being the 2nd most decorated holiday, LED Holiday Lighting saw a definite need in the lack of energy efficient LED lighting options for consumers. These LED Halloween lights are not only scary and bright but are environmentally friendly in that they use 90% less electricity than standard incandescent lights. LED lights are much safer than traditional incandescent lights as they produce virtually no heat making them perfect for both inside and outside illuminations. They also provide a safe environment by lighting pathways and front yards for trick-or-treaters.
The 5mm LED Halloween lights feature custom designed BLACK WIRE available in two styles, a 50 light string and a 105 light icicle. Up close, the black wire looks like thick spider webs. From a distance, the black wire design spookily blends into the night providing an even spookier Halloween lighting ambiance. The LED light strand lights are great for wrapping trees and bushes and the LED icicle lights are perfect for outlining rooflines or highlighting architectural features. These 5mm LED Halloween lights are available in Pumpkin Orange (Orange Frost), Hocus-Pocus Purple (Purple Frost) and neon Frankenstein Green (Lime Frost). These exclusive LED Halloween string lights and icicle lights are also available in alternating Purple and Lime Frost or Purple and Orange Frost. LED Holiday Lighting's 5mm LED Halloween lighting products feature a waterproof 1 piece construction making them perfect for outdoor lighting applications. Like all LED lights from LED Holiday Lighting, the new 5mm LED Halloween lights feature full wave technology for flicker free eerie lighting all season long.
LED Holiday Lighting's Halloween lighting product line continues with the G12 LED Halloween lights. These Raspberry G12 round style Halloween lights are available in orange, purple, and green LED lights and are strung on green wire.
The LED light animated Halloween signs available from LED Holiday Lighting feature 4 singing pumpkins lit by orange G12 LED lights. The LED light animated Halloween singing pumpkins are programmed to mouth the words to five different Halloween themed songs including, The Addams Family Theme Song, Monster Mash, Yo Ho – A Pirate's Life for Me , This is Halloween, and Thriller. View the animated LED Halloween Pumpkins Demo video to see this pumpkins in action.
LED Holiday Lighting's line of incandescent Halloween decorations includes the Witch on broomstick, and Boo Ghost! These light up Halloween decoration figures are lit with M5 Mini Incandescent lights providing an eerie glow. The Halloween light up decorations are recommended for use in yards and on porches.
LED Holiday Lighting also offers multiple bulb styles of premium grade LED light strands in purple, green and orange on traditional green wire. Choose from a multitude of bulb styles for every decorating application including 5mm, M5, G12, C6, and C7. For an easy way to light hedgerows and bushes, try the purple, orange, red and gold LED net lights available in a 4 x 6 foot square. These LED net lights will cut down on your decorating time this Halloween season. LED Holiday Lighting also carries a line of string lights that allow you to create your own custom color combinations. The new Color-Rite light strands can be purchased in green, orange and purple which can be interchanged in any color pattern you want. For Halloween LED replacement bulbs, LED Holiday Lighting offers purple, green, and orange bulbs in both a C7 or C9 size with candelabra bases.
Halloween is the second most decorated holiday. LED Holiday Lighting continues to expand its line of quality LED Christmas lights to satisfy every lighting occasion. This year, LED Holiday Lighting is equipped to take care of all your Halloween decorating needs. LED Holiday Lighting has been in business since LED string lights were first available bringing you the best products, cutting edge LED technology and improvements, competitive pricing and a large LED inventory year round. All LED lighting products from LED Holiday Lighting are UL or CSA-US Approved and ROHS Compliant. LED light strands are energy efficient, safe, and long lasting.
LED Halloween lights are now available for immediate shipping, order online now at http://www.LEDHolidayLighting.com
###