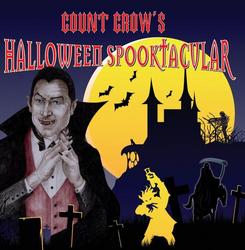 The Children's Hospital is simply one of the best institutions in the world for helping kids with chronic diseases and cancer. I can think of no better place to help sick kids
Denver, CO (Vocus) October 7, 2010
Count Crow has breathed life into deathly boring Halloween music with the new album 'Halloween Spooktacular.' The Halloween soundtrack by Denver singer songwriter Matt Crowe is building buzz with its spooky but fun dance songs. Part of what he's howling about includes a good cause. During the month of October, a portion of sales will go to help kids with cancer.
What does Halloween have to do with cancer? Both can be scary for kids! The Count is proud to sponsor The Children's Hospital Foundation with his smile-inducing music. The Children's Hospital Foundation provides research, lifesaving care and financial assistance for kids battling cancer and childhood diseases.
For the month of October 10% of proceeds from music sales will go to The Children's Hospital Foundation. The more albums or downloads are sold, the more goes to support the cause. "The Children's Hospital is simply one of the best institutions in the world for helping kids with chronic diseases and cancer. I can think of no better place to help sick kids" says Crowe.
How to get involved
Count Crow is launching the campaign on social networking sites including Twitter, YouTube and blogs. To participate, go to http://www.CountCrow.com/cancer and grab a widget or share the campaign with friends on Twitter and Facebook.
Kids and adults both will want to dance along. "Count Crow and his minions have managed to give us a plethora of musical stylings from hip hop and disco, to trance and some great dance music. If you're in the mood for something fresh and new this Halloween…then you won't want to be without this great new CD," writes Columbus Horror Examiner Justin Lewis.
Connect with Count Crow
Twitter: @countcrowmusic
Facebook: facebook.com/countcrow
MySpace: myspace.com/countcrowmusic
Blog: countcrow.com/blog
About Count Crow - http://www.CountCrow.com
Denver based singer/songwriter Matt Crowe, a confessed Halloween junkie, was frustrated by the lack of fun in Halloween music. There were no great Halloween albums, just a bunch of less than stellar individual tunes like 50's surfer music, Elvira stuff, and the gore and harsh vibe of Rob Zombie and Marilyn Manson.
After writing the first track for the album, the swinging, hip-hop flavored "Shout The Boo," his ghoulish fans screamed for more. Reaper Man has been nominated for the Alternative Top20 on Music World Radio.
Music World Radio.
Last September, Crowe vowed to make an entire album of Halloween music. He teamed up with Trevor Huster to produce Count Crow's Halloween Spooktacular which he hopes will turn into a Halloween tradition for families.
The 13 track collection was released October 5, 2010 on the indie label Honur Records. It's a stylistically diverse romp through numerous eras of popular music: 1940s a capella, classic pop, disco, 70s hard rock, hip-hop, rap and reggae.
###