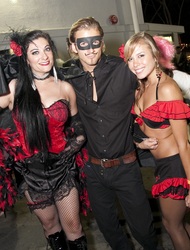 The Tea Party has nothing on the Halloween OC Party
Newport Beach, CA (PRWEB) October 26, 2010
Producers of Halloween OC, the largest 21 and Over Costume Ball are looking forward to an incredible night of ghostly fun and excitement. "The Tea Party has nothing on our Halloween Party" comments Al Freeman of Diamond Productions, one of the many contributors to the event.
Despite months of back and forth regarding the sale of the OC Fair, the party is on, at least for this year. However, this could be the last one at the OC Fair, so event producers are going all out to make what could be a grand finale event, spectacular. The party goes until 4am.
A portion of the proceeds from Halloween OC will benefit Websites for Heroes, a 501(c)(3) nonprofit organization that helps active military families stay connected.
Halloween OC features six giant indoor party areas and two exclusive VIP lounges; each space features different types of entertainment. The rooms are appropriately named The Boneyard, Alien Asylum, Dracula's Den, Zodiac Zombies, Pumpkin Patch and Mystique & Magic. The central VIP lounge is sponsored by SVEDKA Vodka and the Haunted Vineyard VIP Wine Bar is sponsored by Robert Mondavi and Ravenswood Wines.
Last year Halloween OC had over 10,000 guests, was profiled on FOX 11 and sold out at midnight. This year capacity has been increased to accommodate 15,000 guests, but that may not be enough because the event sells out every year. Greater attention to detail has been placed on the making overall guest experience incredible; including the addition of more bathrooms, better line flow at the entrances, and locating all stages indoors with state-of-the-art production and themed decorations.
In addition to great music and sumptuous food, there will be vendor booths, fortune tellers, a sexy costume contest and fashion show. Tickets to Halloween OC are $30 in advance or $60 at the door. Advance ticket discounts are subject to availability. Details, including the artists performing the event are available on the event website.
Halloween OC
Saturday, October 30, 2010
8pm - 4am
OC Fair & Event Center
88 Fair Drive, Costa Mesa, CA 92626
21 & Over - Costumes Recommended, but not required
###