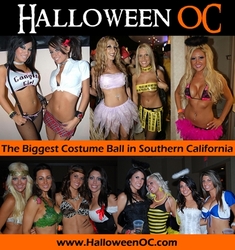 Costa Mesa, CA (PRWEB) October 25, 2009
HalloweenOC is celebrating 2009 with a two day event hosted at the OC Fair and Event Center in Costa Mesa, CA. This event has been in development for three years and takes advantage of the fact that it's been 11 years since Halloween has fallen on a Saturday.
Past capacity issues at the Atrium Hotel and Irvine Marriott drove the event producers, Ones We Love, to work with the OC Fair to move the celebration so more guests interested in attending could get a ticket. Halloween OC has been the annual "Event" in Southern California for those wanting to show off their Halloween costumes and more to the thousands of beautiful people who attend each year. Photos of past years are on the event website - http://www.HalloweenOC.com
Tickets for the event range in price from $35 to $150. Parking at the OC Fair is $5 for general and $10 for preferred. To accommodate our Bentley, Ferrari and Lamborghini owners, Valet parking is available for $25. Guests can reserve a VIP Couch on Saturday for $500, which includes VIP Admission for four guests. Bottle service is also available. There are 16 hotels within a two mile radius listed on the website offering great rates to reduce the number of guests having to drive after drinking at the Halloween OC event.
The event is promoted by Ones We Love (OwL), the nationwide event promotion and marketing company based in Newport Beach, California that specializes in producing special themed events and concerts. Friday's party, entitled the Halos N' Horns Music Festival presented by KROQ and AHL Produtions features Korn, Shiny Toy Guns, Girl Talk, Shwayze with Cisco Adler, Iglu and Hartly, Far East Movement and 100 local bands and recording artists. Saturday features local DJs spinning top 40, house, electro, mashups, hip-hop, 80's 90's and disco. Saturday also features two fashion shows and a SexyCostumeContest at Midnight. VIP guests will be treated to an exclusive VIP lounge and promotional giveaways from sponsors.
OWL Public Relations
###