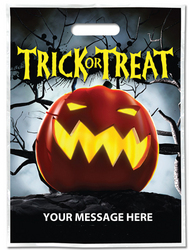 Halloween is the second-largest holiday for promotional spending. Consumers spend over $2.5 billion on Halloween with over $170 million spent on advertising alone
Los Angeles, CA (PRWEB) September 23, 2009
Halloween is the busiest season for California plastic bag manufacturer Aplasticbag; every year orders for millions of Halloween bags pour into their factory. As a business, taking advantage of this enormous marketing opportunity becomes a growth strategy when these facts are taken into consideration:
"Halloween is the second-largest holiday for promotional spending. Consumers spend over $2.5 billion on Halloween with over $170 million spent on advertising alone," according to industry specialists. An estimated 31 million children will go trick-or-treating this year, and over 25 million of them will carry a Halloween bag from Noteworthy. With this kind of exposure, many businesses are recognizing the marketing value in paper and plastic bags advertising. Distributing free Halloween bags to customers can potentially translate to significant marketing exposure for a business. As children go from door to door their trick-or-treating bag can be seen by hundreds of people. A business's thoughtful regard for child safety will be remembered by many parents who see a child's custom printed poly bags bearing the company's name.
Every year, more emphasis is placed on child safety during the Halloween season, and Noteworthy offers Halloween designs that promote child safety. These custom printed Halloween bags help children stay safe on Halloween by featuring metallic bags made of highly reflective material, which reflects car headlights, keeping children visible and safe at night from traffic. Concerning environmentally-conscious consumers, non-woven recyclable, reusable Halloween bags are available in many designs and sizes for every need. These plastic and paper Halloween bag designs also include easy-to-read safety tips that educate both children and parents about safe trick-or-treating. Halloween bags also make great handouts at special holiday events like haunted houses. Places where they sell well include: banks, restate, schools, clubs, non-profits, retail stores, police, fire, and sheriff departments, restaurants, gas stations, fast food chains, radio stations. Aplasticbag offers free onsite set up on many bags with low minimums, and spectacular high definition graphics and custom full 4-color printing. With no additional charges for imprint or typesetting, and no plate charges, Halloween bag advertising is a worthwhile investment for the marketing-conscious.
###