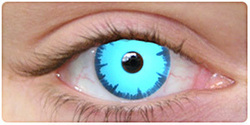 Halloween is one of the busiest times of the year for us
Vancouver, BC (Vocus) September 23, 2009
Coastal Contacts introduces the new fall lineup of Special Effects contact lenses for Halloween, including a Twilight inspired lens. Adding to their popular Special Effects (SFX) contact lens line, Coastal Contacts now offers over 130 styles, ranging from mildly scary to full out freaky.
"Halloween is one of the busiest times of the year for us," stated Coastal Contacts Communications Manager, Jennifer Harvey. "Special Effects contact lenses have been growing in popularity for years as they are becoming more prominent in movies. Requests for these lenses have started coming in already for this year."
Twilight has become the biggest fan phenomenon to hit North America since Lord of the Rings, and people are excited about dressing up as their favorite Twilight character this Halloween. Contact lenses in special designs, and colors help take a costume to the next level and are used frequently by Hollywood blockbusters such as X-Men, Star Wars, Harry Potter and Twilight.
"Twilight is a popular request this year. Everyone wants to be Edward or some type of Vampire and the key costume piece for a vampire is the eyes. People are really having fun with it- blood red eyes, vampire dark purple, or Edward's amber colored eyes. When you put a pair of these SFX contact lenses in, it really changes the way you look." added Harvey.
As the vampire theme heats up this year, setting your self apart from the crowd has become easier with Coastal Contacts new Twilight inspired lens, hitting stores just last week. Most of their Special Effects contact lenses are available in prescription powers, for people who need vision correction, and all lenses from Coastal Contacts are FDA approved.
About Coastal Contacts:
Coastal Contacts is one of the world's fastest growing online vision care suppliers. Providing contact lenses, eyeglasses and other complimentary vision care products to consumers worldwide, Coastal Contacts is proud to provide an affordable, convenient option for high quality vision care products. With its world class operations in North America, Europe and Asia, Coastal Contacts offers a unique blend of private label and branded products to over 150 countries across the globe. Already #1 in many of its markets, Coastal is rapidly advancing toward its goal of becoming the "World's Vision Store."
For Further Information:
Jennifer Harvey
Communications Manager
Coastal Contacts Inc.
604-669-1555 ext. 322
###