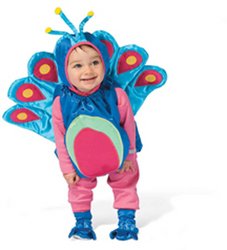 Most parents want to stretch their dollars a little further this year
Lake Bluff, IL (Vocus) September 10, 2008
- Zebras and peacocks and superheroes, oh my! Leading baby catalog One Step Ahead--along with big-sister catalog Leaps and Bounds for kids--has launched its 2008 costume collection.
What's big for little trick-or-treaters this year?
"For babies, it's all about warmth, comfort, and the essential cute factor," says Karen Scott, President of Chelsea & Scott, Ltd., the catalogs' creator.
"Little ones can't enjoy the Halloween experience if they're cold or uncomfortable."
That's why One Step Ahead is offering a selection of exclusive "bubblesuits," which slip easily over clothing. They're softy, roomy, and allow for quick diaper changes.
A smart choice for toddlers: warm, furry, costume jumpsuits, with room to move and added warmth. Styles range from favorites like puppies and ponies to classic characters like Tigger and Horton.
And for bigger kids, it's all about creativity and value--i.e., the enduring play value offered by dress-up quality costumes.
"Most parents want to stretch their dollars a little further this year," says Scott. "And kids love role-play and dress-up, which is great for growing imaginations. So we would never create a costume that only lasts one day."
Many of the hottest costumes will be tied to the year's biggest movies, including Hannah Montana, the Incredible Hulk, Indiana Jones, and Star Wars' Clone Wars.
One Step Ahead has also expanded its line of "stuffed animal" costumes, which sold out quickly following last year's launch. Made just like high-end stuffed animals, they feature plush, airbrushed fabrics, marble eyes, and realistic 3D headpieces.
About Chelsea & Scott
Chelsea & Scott Ltd, parent company of One Step Ahead and Leaps and Bounds, specializes in high-quality, hard-to-find children's products. Relying on a real-life Parents Panel and professional merchandisers, it evaluates thousands of products each year, then selects the top performers. When it can't find goods that meet its standards, its in-house design team creates their own. An established leader in the juvenile market, Chelsea & Scott is celebrating its 20 year anniversary.
For more information, contact: Cathy Liginski at cliginski @ onestepahead.com.
###