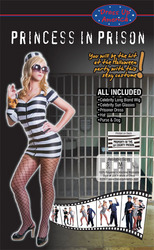 With one of the most talked about celebrity arrests and jail sentences, the www.DressUpAmerica.com [Paris Hilton costume] was the most obvious choice.
Brooklyn, NY (PRWEB) October 15, 2007
Dress Up America (http://www.DressUpAmerica.com) announces the availability of its new limited edition Paris Hilton Halloween costume, Princess in Prison, an outfit sure to draw the wearer many praises of "That's hot."
"With so many stars in and out of jail this year, we felt that a celebrity-in-prison costume would be a hit," says Lou Lands, President of Dress Up America. "With one of the most talked about celebrity arrests and jail sentences, the Paris Hilton costume was the most obvious choice."
"When Martha Stewart was in jail a couple of years ago, it was all over the news -- girls were looking to dress up like 'Martha in Jail', but they couldn't find all the accessories for the costume," Lands continues, "that's why we decided to offer a complete costume set that would include all needed accessories."
Princess in Prison contains all needed accessories, so the customer does not have to spend the time and money to find all accessories needed. The costume includes a long blond wig, famous large frame sunglasses, Tinkerbell the chihuahua in a purse and a prison dress with matching hat. The costume is available in white stripes, pink stripes, orange and orange stripes, in sizes small, medium and large.
"With all of the provided accessories and the phrase 'Property of the L.A. County Prison' inscribed on the back, other partygoers will have no question about the wearer's costume of choice," Lands says. "The Princess in Prison Paris Hilton costume is already the #1 hottest and funniest Halloween costume this year."
The Princess in Prison costume is an inexpensive option compared to other Halloween costumes, and is perfect for college students and young adults looking to infuse a little humor into the holiday.
"I may hate the Paris news all year, but for Halloween? This is exactly what I was looking for." -- Melissa 21, Brown University
The costume can be purchased online at http://www.CostumeTrend.com , or offline at Halloween Express and Halloween Adventure (both national Halloween chain stores) and many other fine Costume and Party shops nationwide.
For more information about Princess in Prison, the Paris Hilton Halloween Costume from Dress Up America.com please visit http://www.DressUpAmerica.com.
Contact:
Lou Lands
718-431-3090
###