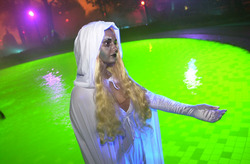 We are thrilled to be listed as one of the best Halloween events in the country
West Mifflin, PA (Vocus) September 19, 2008
Kennywood's Phantom Fright Nights continue to receive acclaim. On Sept. 12, 2008, Hauntworld Magazine, the "haunt" industry's leading trade magazine, named Phantom Fright Nights as the # 3 Amusement Park Halloween Event! This year the Kennywood event, Phantom Fright Nights, opens Friday, September 26 and continues Friday and Saturday evenings through November 1. Hours are 7 PM to1 AM. (A bonus night, Sunday, October 12, has hours of 7 PM to 11 PM.)
"We are thrilled to be listed as one of the best Halloween events in the country," comments Jerome Gibas, Kennywood General Manager. "Kennywood's goal is to produce the ultimate haunt experience, and it's especially gratifying to see that our Team Members effort is respected within the industry."
According to Hauntworld, "attractions are recognized for their attention to detail, high-quality special effects, and overall scare factor… In an industry that has reached the multi-billion dollar mark, these haunts are leading the way in scream-inducing innovations."
Hauntworld's Top 5 Amusement Park Halloween Events:
1. Universal Studios Horror Nights - Orlando, FL
2. Knott's Scary Farm - Los Angeles, CA
3. Phantom Fright Nights - Kennywood Amusement Park - Pittsburgh, PA
4. Universal Studios Horror Nights - Hollywood, CA
5. Tampa Busch Gardens - Tampa, FL
For those who know Kennywood, a first-time visit to Phantom Fright Nights reveals a somewhat disturbing transformation from the park's regular season. Approaching the parking lot one notices the happy lights and music have vanished. Instead, the Phantom himself guards the front gate. He's accompanied by fog, creepy music, and eerie figures. Visitors safely traversing through the creepier-than-ever tunnel may travel fog-filled midways and scare zones to brave the haunted mazes and rides.
This year Guests will find an impressive new haunt, Voodoo Bayou. Upon entering the Bayou, Swampland Canoe And Raft Excursions (SCARE Tours) beckons. SCARE Tours promises the adventure of a lifetime through Voodoo Bayou, once famous for its raging rapids. As soon as one enters SCARE's gate and steps into the swamp, he or she discovers it's too late to turn back! A warning from past victims is heard in Whispering Canyon, and dodging tombstones, coffins and evil spirits within the swamp's cemetery becomes a necessity. The massive collection of shrunken heads belongs to the Bayou's Voodoo King, who seems to have found the perfect cave for procuring interesting specimens.
Phantom Fright Nights take place every Friday and Saturday night from September 26 through November 1 from 7 PM to 1 AM, plus a bonus night: Sunday, October 12 from 7 to 11 PM. Tickets are $23.00 at the gate or $20.00 at participating Giant Eagle locations. Group Rates are also available; call 412.464.9931 to make a reservation. See http://www.kennywood.com for further details.
No food or beverages may be brought into the park during Fright Nights. Halloween masks, make-up, or costumes are not permitted. Phantom Fright Nights is not recommended for children under 13 years of age. For further information call 412.461.0500 or visit http://www.phantomfrightnights.com.
You've been warned.
About Hauntworld Magazine: Hauntworld Magazine (http://www.hauntworld.com) is the premier haunted attraction magazine in the industry, providing insider access into the world of haunted attractions to nearly four million people.
About PFN: Every year since 2002 Phantom Fright Nights and its cast of ghosts, ghouls, goblins and gremlins have continued to morph. PFN, which also features many scarier than normal thrill rides, has successfully added 10 operating days to Kennywood's shoulder season and led to the opening of a Halloween event for younger children - HallowBoo! - at sister park Idlewild (http://www.idlewild.com), located in Ligonier, PA.
About Kennywood:
Kennywood first opened in 1898 as a "trolley park" at the end of the Monongahela Street Railway. Operated by Kennywood Entertainment, Kennywood is western Pennsylvania's largest provider of summer fun. It is often regarded as America's finest traditional amusement park and is internationally known among thrill seekers and amusement park enthusiasts for its collection of classic rides, state-of-the-art thrill rides, and world-class roller coasters and a wide variety of food, games, gardens, and live entertainment. For more information please call 412.461.0500 or visit http://www.kennywood.com.
###