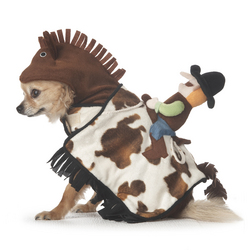 San Diego (Vocus) October 3, 2007
Pets with scary, funny or homemade Howl-O-Ween costumes can win a year's supply of food or $100 PETCO.com online gift certificate by participating in PETCO's online Howl-O-Ween Pet Photo contest. America's votes will determine three grand prize winners.
To enter, pet parents simply submit a photo of their pet in an original, scary or funny costume and write a short description – 50 words or less – about their pet, the costume and what qualities make their pet unique.
PETCO.com judges will select the four most creative, funny or inventive photos of dogs, cats and small pets as finalists and post them to PETCO's web site. Then it will be up to the public to vote for their favorites. All entries must be received by Oct. 12. Don't have a costume for your pet? PETCO is a pet parent's Halloween headquarters. Shop PETCO.com's Halloween Store or visit a PETCO near you.
Online voting begins on Oct. 19 and runs through Oct. 31.
Dog and cat winners will receive a one year supply of food from AvoDerm and the small pet winner will receive a $100 PETCO.com online gift certificate. Click here for contest details.
In addition to the online contest, PETCO's more than 870 locations will host an in-store Howl-O-Ween pet costume contest on Saturday, Oct. 27 at 2 p.m.
For the latest news on anything and everything PETCO – from updates about the company to incredible acts of animal kindness, visit the company's blog at PETCONews.com.
PETCO is a privately held specialty retailer that provides products, services and advice that make it easier for our customers to be great pet parents. We operate more than 870 stores in 49 states and the District of Columbia, as well as a leading pet products and information destination at http://www.petco.com. Our nonprofit organization, The PETCO Foundation, has raised more than $34 million since its inception in 1999 to help promote and improve the welfare of companion animals. In conjunction with the foundation, we work with and support more than 4,200 local animal welfare groups across the country to help find homes for more than 200,000 adoptable animals every year.
###