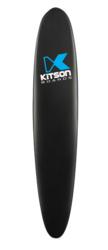 We want to redesign the sport of paddle boarding, both for avid SUP competitors and every day enthusiasts alike
Olympia, WA (PRWEB) October 12, 2012
Starting Monday October 15th through Halloween on October 31st, the recreational board company, which offers a vast array of carbon fiber surfboards, paddle boards and wakesurf boards, all customized to customers specifications for height and weight, as well as color and graphic options, will all be on sale including their newest designs, the Yoga Paddle Board and the Touring SUP Racing Board.
Since the company's official launch last spring, their engineering team has continued to design and produce cutting edge boards. "We want to redesign the sport of paddle boarding, both for avid SUP competitors and every day enthusiasts alike," said Travis Dodge, head of Kitson Boards Engineering and Design.
"Our boards are built for people of all skill levels, whether it's your first time or your a seasoned vet, our boards ensure you'll have a great experience while SUP'ing on any type of water," said Dodge.
The Halloween sale extends a 30% discount on the purchase of any new paddle board, surfboard or wake surfboard in the Kitson Collection. Customers can call in to receive the discount or use the code "BOO" during check out.
Founded by Michael and Denise Kitson, Kitson Boards, LLC headquarters is located in Olympia, WA. Kitson Boards are all crafted out of the ultra durable and long lasting carbon fiber material. All production of surfboards, paddle boards and wakesurf boards, as well as the people behind the brand are based in North America. KB prides itself on outstanding customer service and only the finest in recreational boarding and accessories. Free shipping is available throughout the continental USA.