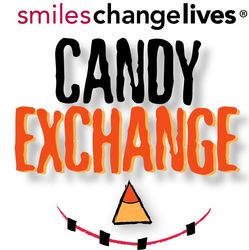 I'm donating 13 pounds of candy to send to the soldiers
Kansas City, MO (Vocus) September 30, 2010
"I'm donating 13 pounds of candy to send to the soldiers," declared 8 year-old Mattie from Kansas City. Mattie, along with hundreds of kids and families exchanged some of their Halloween sweets at one of the Smiles Change Lives-sponsored Candy Exchange Events held nationwide last year.
What makes a kid give away some of the candy they worked so hard to collect? Many kids and families are drawn to supporting a good cause. Not only does the candy get donated to troops overseas or to local charities, but the entire event is sponsored by the national nonprofit organization, Smiles Change Lives which helps children in need get braces.
Now serving all 50 states, SCL celebrates National Orthodontic Health Month (October), with this nationwide event in partnership with its dedicated orthodontic providers. Each practice will provide healthy, teeth-friendly prizes in exchange for the donated candy, as well as hosting fun games and activities at their event.
Visit the official candy exchange site for a state-by-state list of 20 Candy Exchange Events.
Parents and dentists agree that candy is bad for teeth. Sticky, hard and chewy sweets can actually create orthodontic emergencies for people with braces. "I'm giving away most of my Halloween Candy because I don't want to break off my brackets," admits 12 year-old Jonathan from Aurora, CO who attended the event last year.
To prevent some serious bracket damage and offer kids and families a healthier alternative to all of the candy collected during National Orthodontic Health Month, kids, adults and families are encouraged to bring some of their Halloween sweets to one of the many locations hosting these fun, free events.
"We're looking forward to our second year participating in the SCL Candy Exchange," shares Dr. Zackary Faber, SCL provider from Long Island, NY. "We collected more than 1,000 pounds of candy last year and our community got very involved in the spirit of this event." Last year's events collected a total of 6,000 pounds.. This year, SCL has set a goal of collecting 10,000 pounds of candy.
"Our event last year was so successful we had to call in the troops to help us haul away the candy," admits Dr. Steven Hechler, SCL provider from Overland Park, KS. "We're big fans of this event because it gives us a chance to support a great charity and prevent a few cavities along the way. It's a grin-grin situation for everyone," adds Dr. Hechler.
Candy Exchange Events are just one way SCL is reaching out to communities to help serve thousands of children this year. To apply for assistance, please visit Smiles Change Lives at http://www.smileschangelives.org/apply or call 888-900-3554 to obtain an application via mail. Information is also available in Spanish.
###