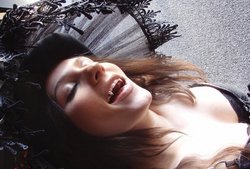 We have seen a trend towards many more young couples getting sexy costumes and lingerie to wear to a party
Philadelphia, PA (PRWEB) October 22, 2009
Adults of all ages are getting more and more brazen when it comes to mixing sexyness with Halloween according to Richard Williamson of Pierre's Costumes in Philadelphia. The holiday is a great way for young adults and the young at heart to dress up in a sexy provocative manner without being labeled a tramp or a player. Halloween is no longer just about kids trick or treating on Halloween night.
The largest segment of sexy outfit buyers is as expected; college students, but it's the other types of customers that you may not expect. Young 20 and 30 something's are still anxious to relive those wild college days. They now have the means to throw the over the top toga party that they could not afford in college.
"We have seen a trend towards many more young couples getting sexy costumes and lingerie to wear to a party," said Richard Williamson - President Pierre's Costumes in Philadelphia. "The typical buyer is married and has young kids. People of all ages just want to let loose and have some fun every now and then There really is no average buyer of the sexy outfits. Pierre's stocks sexy costumes and lingerie for ladies from size zero to size 26. We know that larger men and ladies want to look hot and feel comfortable too," continued Williamson.
"We stock sexy costumes as well as lingerie, but have seen a trend towards rude ones too." said Jennifer Zumpf - Manager of Planetcostume.com. "Planetcostume.com also caters to larger sexy people. The men's outfits will fit and flatter your typical guy even if he hasn't seen the gym in years."
One thing is for sure, while the topic of sex may be taboo the rest of the year. Sex is on many people's minds at Halloween & sexy Halloween costumes are selling fast.
About Pierre's Costumes. Pierre's Costumes was founded in 1943. They have been creating original costumes and mascots for longer than most costume companies. Pierre's provides costumes to TV, Film, Theatre, Parades, Sports Teams, Parks, and the public. Pierre's not only rents and sells costumes but also creates on-of-a-kind costumes too. They are located in the historic Old City section of Philadelphia. Company web site: Pierre's Costumes Web site
About Planetcostume.com. Planetcostume was established in 1997 as an extension of several large manufacturing costume companies, which had been established as far back as 1876. The owners of those companies saw a need for a more direct way to get their Costumes, Santa suits, and lingerie to customers all over the US. Planetsanta.com and Planetcostume.com allow consumers to directly order Santa & costume related products around the world, and around the clock. Company web site: Planetcostume Web site
Contacts: Jennifer Zumpf - Planetcostume.com 866-691-4273 or Richard Williamson - Pierre's Costumes 215-925-7121
###