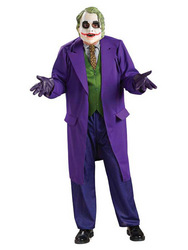 Ironman and Batman - The Dark Knight will be very popular this year
Alpharetta, GA (PRWEB) July 29, 2008
Trading Fort LLC recently launched a new costumes website, http://www.MrCostumes.com ], offering quality costumes for every occasion. Mr. Costumes runs alongside Trading Fort's patio and garden website, http://www.YardEnvy.com ], bringing year round balance to this growing e-commerce company.
Mr. Costumes offers a variety of Halloween Costumes including traditional costume themes such as Pirates, Vampires, Witches and Princesses. In addition, costumes portraying the latest movies are also available. "Ironman and Batman - The Dark Knight will be very popular this year," says Chris Miller, co-founder of Mr. Costumes. "In the wake of Heath Ledger's passing, The Joker costume is already enjoying great popularity this year and promises to be a top seller in the movie category," explains Miller.
Pirates costumes, Harry Potter and long time Superhero favorites like Spiderman, Superman and Batman are hot trends for boys' costumes. For the girls, Disney princesses such as Snow White and Cinderella are always popular and recent teen sensations Hanna Montana and the High School Musical crew are also enjoying a good run.
Mr. Costumes rounds out its line with a variety of Sexy Costumes. Demand for Sexy Costumes has been very strong over the past few years and Mr. Costumes has a great selection of new costumes for 2008. Traditional favorites such as sexy maids, sexy cheerleaders and pirates are teamed with new character themes such as Sexy Princess Leia Slave and Sexy Spongebob creating a diversified line offering something for every desire.
Mr. Costumes offers a balance of adult costumes and kids costumes as well as Halloween masks and Halloween Decorations. Outdoor Halloween Decorations are becoming mainstream as homeowners decorate the lawn with inflatables, Halloween Lights and other Halloween props. Sales are expected to be brisk this season with the Halloween holiday falling on the weekend allowing everyone to take part in this ghoulish celebration.
About Trading Fort LLC:
Trading Fort LLC hosts a number of niche e-commerce websites and has enjoyed tremendous growth since inception. The company is headquarted in Alpharetta, GA where it runs customer service and fulfillment from a 40,000 square foot operations facility.
# # #