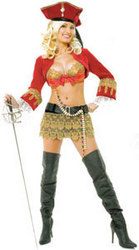 This is one of the only times of year when people let their inhibitions out and become someone completely different and our naughty Halloween costumes allow them to have that fun
Dania Beach, FL (PRWEB) September 18, 2007
Halloween is the time for people show off their sexy side, and people looking to be fun, sexy, and flirtatious this Halloween now have a few more options. AnniesCostumes.com, one of the largest online costume retailers has extended its naughty Halloween costumes to include sexy Playboy Halloween costumes such as the Saucy Marie, Scandalous Pirate and Sexy School Girl.
Hugh Hefner's three girlfriends Holly, Bridget and Kendra, a.k.a. "The Girls Next Door" from the reality show on E!, can be seen modeling these naughty Halloween costumes. Men need not feel left out - they can accompany their sexy sidekicks by dressing up as "Heff" - The Hugh Hefner costume comes complete with smoking jacket and pipe. Each officially licensed Playboy Costume comes with the patented Bunny Logo and comes in a Playboy Garment bag for safe keeping in between Halloween and any other sexy dress up occasions.
"This is one of the only times of year when people let their inhibitions out and become someone completely different and our naughty Halloween costumes allow them to have that fun," said Shari McConahay, Marketing Director at Annie's Costumes. "With less then two months to shop, we have been stocking up on these great items and all the hottest costume ideas."
Along with the popular Playboy Halloween costumes, some of this year's sexy, fun and a little naughty Halloween costumes include the Bettie Page sexy costumes, bunny costumes and scandalous pirate outfits.
Annie's Costumes has been the source for trick-or-treaters of all ages for more than 10 years. They carry naughty Halloween costumes for men and women along with sexy plus size costumes. They have sites devoted to costume accessories, theater makeup, and costume wigs. Annie's Costume is also a supplier of Santa Suits, western wear, gothic fashions, magician supplies and more for people of all ages.
About Annie's Costumes:
AnniesCostumes.com, part of the Extreme Halloween Network, is the premier online costume retailer for naughty Halloween costumes for women and men. The selection now includes a line of Playboy Halloween costumes like the scandalous pirate, gangsta lady, and racy referee. AnniesCostumes.com is the web's most complete source for children's and adult costumes for all holidays and occasions. Annie's Costumes offers costumes that can be used in dress up games for children, they have sites devoted to costume accessories, theater makeup, costume wigs, Santa Suits, western wear, gothic fashions, magician supplies and more. Annie's Costumes has been providing Halloween costumes, costume accessories and related products for online shoppers since 1996.
###