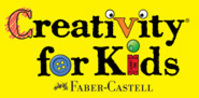 Cleveland, OH (Vocus) October 26, 2010
Gather the family together for some Shrinky Dinks Halloween Fun and create a unique decoration for your house. Make 30 Halloween-themed genuine Shrinky Dinks ornaments to display on an eerie black velvet tree that's 11" tall. Color in the designs with the colored pencils included in the kit, then bake and shrink your ornaments. Once they're done, arrange them on the tree however you like for a decoration that's sure to delight all the ghosts and goblins in the neighborhood. Shrinky Dinks Halloween Fun has a suggested retail price of $16.99 and is a Fun Family Craft project (age 7 & up can do the activity without adult assistance).
Create a bunch of wacky and fantastic Shrinky Dinks® monsters with the brand new Shrinky Dinks® Monster Lab kit. Color in the 50+ Shrinky Dinks® designs using Faber-Castell color EcoPencils, then shrink your pieces in the oven. Assemble the mix and match parts with chenille stems and wiggly eyes to make your creatures. Then place your monsters inside the 3-D pop-up laboratory for play and display. This kit has a suggested retail price of $19.99 and is for ages 7 & up.
It's so much fun to decorate your face and hair for Halloween and other times during the year! Face & Hair Painting Studio includes high quality cosmetic-grade face crayons in bright colors to draw designs and patterns on your face. Add body glitter for some sparkle. Then use the hair tints to decorate your hair with streaks of color. There's a fully illustrated guide that provides plenty of ideas and inspiration to come up with your own amazing face and hair creations. All the materials are fully washable and non-toxic. This kit is for kids age 5 & up and has a suggested retail price of $21.99.
About Creativity for Kids:
Founded in 1976 by Phyllis Brody and Evelyn Greenwald, Creativity for Kids has provided imaginative, high quality, innovative arts and crafts products for children for more than 30 years. Today our products are available all over the world, giving children the opportunity to create, pretend, and play in ways that encourage self-expression and build self-esteem. Learn more about our company at http://www.creativityforkids.com. (All Creativity for Kids products are fully compliant with current U.S. toy safety standards.)
###