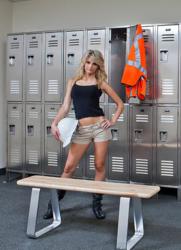 Nothing Says Upgrade Quite as well as discounted shipping. Order Assembled Hallowell Lockers Now. No Need to be Hungry like Honey
Boston,MA (PRWEB) November 30, 2012
Hallowell Lockers are a very popular line at A Plus Warehouse, and customers tend to be Hungry for Hallowell! Honey the Hallowell Lockers girl does look like she could use a good meal as well. Hallowell manufactures not just lockers, but also storage cabinets, steel shelving, folding gates, and most recently black work benches. A Plus Warehouse constantly brings value to customers, and the Hungry For Hallowell Promotion is no exception. Due to amazing buying power , A Plus Warehouse and Hallowell were able to negotiate preferential shipping discounts that will be passed on to customers. For a limited time , A Plus Warehouse will be able to ship assembled Hallowell Lockers at the same shipping price as unassembled Hallowell Lockers. This represents a 25% savings approximately in shipping.
According to Carrie Stairman, Marketing Assistant at A Plus Warehouse, "Nothing says upgrade like discounted shipping! Order Hallowell Assembled Lockers Now" Other than being a good blogmaster, Carrie has hit the nail on the head. Customers value additional service for no additional money. Free money courtesy of A Plus Warehouse.
Hallowell lockers come in a few styles and it merits some description. Here is a list of Hallowell Lockers available at A Plus Warehouse:
1. Corridor Lockers – Traditional lockers that occupy school corridors
2. Silent Lockers – Intelligently designed lockers with no moving parts. This results in no clanging sound when a door is closed
3. Ready Built – These lockers are shipped with locks built in
4. Stainless steel lockers – Always in great demand by food service companies.
Some lockers inspired by Hallowell include the A Plus Warehouse Valumaster and Slopemaster lines.
Hallowell is big on intelligent distribution. Shipping costs are kept down by locating inventory close to major markets. Lockers also tend to damage when shipping thousands of miles. By locating inventory close to customers, the risk of product shipping damage is mitigated.
Customers are hungry for Hallowell also due to the additional product lines Hallowell produces. Hallowell storage cabinets are available in a 14 or 16 GA fully assembled heavy duty version, and also a KD (unassembled) version that works fine for light duty office applications. Hallowell also does a nice job with Industrial Shelving such as the newfangled 'H Post' shelving. Hallowell is always working physics to convince steel to handle more weight!
A few words on A Plus Warehouse:
A Plus Warehouse is a nationwide materials handling dealer specializing in lockers, but offering a very wide variety of other industrial equipment. Customers are encouraged to call 800-209-8798 to request a quotation , place an order , or get other helpful information.