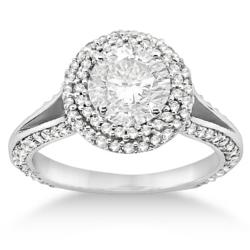 Allurez has an entire section devoted to halo engagement rings, and although it's fairly new, the inventory is larger than many of their competitors.
New York, NY (PRWEB) May 30, 2012
Halo diamond ring lovers have a new place to shop for halo rings. In order to meet the growing demand of consumers, Allurez is proud to announce the arrival of their new line of Halo engagement rings. The new designer rings are fully customizable.
A spokesperson for Allurez said "There's many things that sets Allurez apart from other jewelry companies, like the fact that Allurez lets you design your own engagement rings online. You can create your own ring in a variety of unique styles at several price points with several precious metal options. The new selection of halo diamond engagement rings is no exception to this rule." Allurez offers halo engagement rings that can be personalized in 14 karat and 18 karat White Gold, Yellow Gold or Rose Gold as well as Platinum and Palladium.
According to the same spokesperson mentioned above, "Allurez has an entire section devoted to halo engagement rings, and although it's fairly new, the inventory is larger than many of their competitors. Their selection of halo engagement rings is only expected to grow because of consumer response. I recommend visiting them if you plan to design your own diamond engagement ring."
Halo diamond rings feature a design where diamonds surround a center stone. It usually forms a floral pattern where the stones sit in a circle around the mounting. In other cases, the arrangement could be more square-like.
Two particular styles of halo engagement rings the company is currently promoting are the cathedral style rings and floating halo rings. The former style has arches at both ends of the center diamond where the band meets the halo. The latter style has a halo suspended above the band. The rings also come in antique style as well as modern. The antique styled rings feature milgrained edges and/or scroll work design.
A summary of the features included with the halo style engagement rings include:
Rings with interchangeable heads that can accommodate a variety of center stone shapes and sizes
A selection of GIA certified diamonds to choose for the center stone
Antique and modern style ring settings
Several precious metal options to choose from
Allurez also offers halo diamond engagement rings as part of bridal sets. These bridal sets are a combination of an engagement ring and matching wedding band. A matching set from Allurez is usually discounted at a price lower than what consumers would pay individually for each item on the site.
Allurez is an emerging leader in the online jewelry industry and is driven by the desire to satisfy customers with high-end affordable jewelry. With the launch of their new halo diamond ring product line, the online jewelry retailer is expected to see a high turnout. Allurez will add many new major attractions to their site in the coming months to draw new visitors to their site. For more information, visit http://www.Allurez.com.