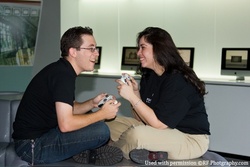 As a graduate of Full Sail, I have had the opportunity to attend Otronicon and have always enjoyed this one-of-a-kind event
Winter Park, FL (Vocus) December 19, 2008
Full Sail University, an award-winning entertainment media university near Orlando, FL, presents the video game wedding event, "A Match Made in Halo." The wedding will take place on Saturday, January 17 at 1:00 PM at the Orlando Science Center (http://www.osc.org ).
The couple will be married during Otronicon (http://www.otronicon.org ), the ultimate video game experience, in front of 3,000 local guests in a fully-themed Halo wedding event. Elements of the Halo theme include: game Master Chief serving as the officiant; bridal party attire featuring bride and groom's Halo emblems; a string quartet to play Halo soundtrack music; a Halo-themed wedding cake; and Halo décor throughout the ceremony and reception.
The bride and groom and avid gamers, Desirai Labrada and John Henry, met while playing Halo online in December 2004 through the Xbox Live system. In August 2005, Labrada relocated to Florida and began her studies at Full Sail University in the Digital Media Degree Program. The couple continued their relationship while now living together in Central Florida.
"The 'A Match Made in Halo' wedding event will bring to life how interactive entertainment and digital media are changing the way we communicate with one another," said Rob Catto, Program Director of Game Studies at Full Sail University. "Today's generation is meeting through online platforms and it is only natural for this unique way to connect and date to find its way into multi-player video games."
MTV Multiplayer Gaming Blog will be blogging about the progression of the wedding plans and featuring 60-second videos prior to the wedding day. MTV News will be traveling to Orlando in January to cover the wedding for a feature segment on MTV.
The couple has received numerous donations from businesses in the Central Florida area to create the Halo-themed memorable occasion. They are the following: Apple Blossom Florist & Gifts (Appleblossomflorist.com), providing floral décor and bouquets; Aramark (Aramark.com), providing food and beverage catering; Atlantis 9 (Atlantis9.com), providing videography services; Becky Lantree - Art Under Glass, providing custom pendants with bride's Halo emblem; Clambake Partners - String Quartet, providing live Halo themed music; Copperhead Salon (Copperheadsalon.com), providing hair services for bridal party; Good 2 Go Event Management Inc. (G2gevents.com), providing wedding planning services; Heather Smith - Costume Designer, providing wedding dress alterations and customization; La Bella Storia - Weddings & Events (Labellastoria.com), providing wedding planning services; RF Photography (Rfphotography.com), providing photography services; Sacino's Formal Wear (Sacino.com), providing groomsmen tuxes; Safia Pulliam - Makeup Artist, providing makeup for bridal party; Sullivan's S&S Jewelers (Sandsjewelers.com), providing wedding bands; and Zoet Finest Cakes (Zoetcakes.com), providing custom wedding cake.
"As a graduate of Full Sail, I have had the opportunity to attend Otronicon and have always enjoyed this one-of-a-kind event," said Labrada. "Now as a bride and a Halo fan, I cannot think of a more perfect setting to celebrate our wedding day. John and I are greatly thankful to all involved for their generous contributions in making our Halo themed wedding dream a reality."
About Full Sail University:
Since 1979, Full Sail University, located outside of Orlando, FL, has been an innovative educational leader for those pursuing careers in the entertainment industry. With over 30,000 alumni, graduate credits include work on Oscar, Emmy and GRAMMY®-winning projects, best-selling video games, and the #1 grossing U.S. concert tours. Full Sail's 190-acre campus and online education platform proudly welcomes over 6,100 students from 50 states and 50 countries.
Full Sail currently offers a total of seventeen degree programs including: Associate of Science Degrees offered in Graphic Design, Recording Arts and Show Production & Touring; Bachelor of Science Degrees offered in Computer Animation, Digital Arts & Design, Entertainment Business (online and on-campus), Film, Game Art, Game Development, Internet Marketing (online), Music Business and Web Design & Development; and Master of Science Degrees in Education Media Design & Technology (online), Game Design, Entertainment Business (online and on-campus) and Internet Marketing (online); and a Master of Fine Art in Media Design.
Full Sail was most recently was named the 2008 "School/College of the Year" by the Florida Association of Postsecondary Schools and Colleges. The university has also been named: The Harvard of Game Schools by Tips & Tricks Magazine; one of the top three New Media Schools by Shift Magazine (alongside the Massachusetts Institute of Technology and New York University); one of the Top Five Game Degree Programs in the world by Electronic Gaming Monthly; one of the Best Music Programs in the country by Rolling Stone Magazine; one of the Best Music Business Departments in the Schools That Rock: The Rolling Stone College Guide; and one of the Best Film Programs in the country by UNleashed Magazine.
For more information about Full Sail, please visit FullSail.edu.
Contact:
Amy Cloutier
Public Relations Specialist
407-679-0100, ext. 5659
acloutier(at)fullsail.com
Kristin Weissman
Director of Public Relations
407-679-0100, ext. 5908
kweissman(at)fullsail.com
###