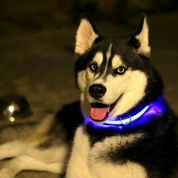 It's estimated that over 1.2 million dogs and over 500,000 cats are hit by cars in the United States each year.
San Francisco, CA (PRWEB) June 26, 2013
Halo Belt company announced the release of Halo Mini, an illuminated pet collar that will keep pets visible and safe at night. It's estimated that over 1.2 million dogs and over 500,000 cats are hit by cars in the United States each year. Halo Mini is working toward decreasing those numbers by providing pets with illuminated safety, without sacrificing comfort or fashion.
"As a dog owner, my number one priority is my pet's safety. It's very difficult to see a dog or cat in the late day or early morning, which can prove to be dangerous, especially if you suddenly lose sight of your pet or if a car cannot see him or her on the road," says founder Vincent Pilot Ng. "The Halo Mini allows me to always keep a clear eye on Lucky and it gives me the comfort of knowing that others can clearly see him. Pets looking awesome and turning heads are just added bonuses."
The quality and choice of materials are superior to others allowing it to withstand the wear and tear of even the roughest treatment of any pet. Halo Mini uses a custom patented illumination system made up of thermoplastic polyurethane fiber optics that are housed within a modern polyester and nylon collar with reflective stitching. Each Halo Mini glows in a choice of bright neon blue, green and red, plus has a flash and constant mode. Each collar is fully rechargeable, lasting up to 75 hours with only a two-hour recharge time. The great look of the Halo Mini is perfect during daytime use, ready for a simple click to light up nighttime fun.
Halo Minis are available in two adjustable sizes, small (32 - 45 cm) or large (45 - 60 cm), and may be purchased starting at $29, with tax and shipping included.
To learn more about Halo Mini or to place an order, visit http://kck.st/11DqiFv on or before July 26, 2013 when the project's crowdfunding campaign ends and Ng moves towards production of the belts. You may also find Halo Mini on Facebook, Instagram and Twitter @halobelt in order to stay up to date with the campaign.
About Halo Mini
Vincent Pilot Ng founded Halo Belt Company in August 2012 to integrate his passion for biking, nighttime activities and safety through visibility. Inspiration struck through his love of LED lights. In 2013 Ng founded the Halo Mini for pets to help keep our loved ones visible and safe at night. These innovative products utilize thermoplastic polyurethane fiber optics, resulting in a brightly colored illuminated strap that can be easily seen for optimal visibility. Save lives. Be seen, be safe!
About Stellar Impeller
Stellar Impeller is a public relations, branding and web design agency built on disruptive innovation. Located in hip East Austin, the company is consistently inspired by the ever-changing art and progressive culture that surrounds them. Stellar Impeller has worked with a wide variety of startups, law firms, artists, professional organizations, yoga studios and many more to establish each brand's image, grow online visibility and generate awareness among their target audiences.
For more information on Stellar Impeller's services, visit http://www.StellarImpeller.com or follow them on Twitter @stellarimpeller.