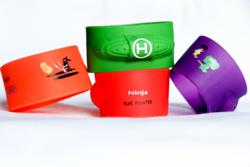 Its common knowledge that the last thing a child wants to do after a playing in the school yard, is spend time washing their hands
Jamaica, NY (PRWEB) April 21, 2011
High temperature in children can be avoided if the proper prevention methods are put in place beforehand. However, education for early school kids of the dangers that different bacterias can cause is sometimes a daunting and nearly impossible task, given their level of understanding. Any device that can aid in the teaching and applications of how best to avoid and destroy certain disease causing bacterias, could be a really good aid. It is a plus if while the kids are learning they can also enjoy themselves.
The revolutionary idea behind Sani-CUFFS is simple; a small refillable reservoir of hand sanitizer is present on each band. The fluid can be dispensed at the push of a button – making it easily accessible. Studies have shown that close proximity to cleaning facilities go a long way to maintaining cleanliness, especially in a child. It's common knowledge that the last thing a child wants to do after playing in the school yard is spend time washing their hands, especially if where they wash their hands is far away from their place of play. With that core principle in mind, HALO Sani-CUFFS strives to also make keeping kid's hands germ-free an exciting endeavor.
HALO Sani-CUFFS come in many different colors with different designs on the surface, showing different characters and their interaction with different strands of disease causing bacteria and viruses. This feature also serves to educate the child of the types of bacteria and viruses out there and what they can do to avoid or destroy them.
All to often coughing, sneezing and high temperature fevers in children can be avoided simply by proper cleaning or sanitizing of hands. Sadly, clean hands don't rank high on a child's list of priorities, but Sani-CUFFS allow a child to still easily get germ-free when ever or where ever they are with a small but effective squirt of sanitizer.
For more information please go to http://www.halosanicuffs.com.
# # #