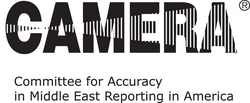 Israeli democracy works just like the US
Boston, MA (PRWEB) August 1, 2008
Israeli Prime Minister Ehud Olmert's announcement Wednesday that he plans to step down, due to corruption charges, serves as a striking reminder of the democratic nature of Israel. The news underscores the respect for justice and the rule of law that Israel shares with the United States and other western democracies. "Israeli democracy works just like the US," points out CAMERA Associate Director Alex Safian. "The top leader, whether President or Prime Minister, can be investigated, and can face charges, and can be forced out of office. In Israel, no one is above the law."
Unfortunately Israel's hoped-for peace partners in the West Bank and Gaza do not share these values. An example of the stark differences between Israel and the Palestinian governments in the West Bank and Gaza has just come to light: a cameraman working in Gaza for German public broadcaster ARD was reported Thursday as having been tortured in Hamas custody.
The head of ARD's Tel Aviv bureau, Richard C. Schneider, told German radio that ARD cameraman Sawah Abu Saif, who was released overnight after being held for five days by Hamas, had been badgered for information about the network's reporting in the region.
"He was tortured during his detention," Schneider said. "We was questioned about the work of ARD. They wanted to know everything about the staff and correspondents and why ARD reported so much negative news about Hamas."
As reported by AFP, the head of the German broadcaster, Fritz Raff, said he was shocked by the abuse of Saif and his condition when he was released. "If Hamas wanted to know while interrogating Saif why ARD reported news that was supposedly negative about it, they certainly gave us another reason to do it," he said.
Raff said ARD would now have to examine how it could continue to report from Gaza while Hamas "trampled on freedom of the press."
To book Alex Safian as an expert commentator on these recent Middle East developments as well as on the democratic institutions and traditions of the Israeli government, please contact Isabel Smith at 818-762-4473 or Isabel @ camera.org. For in depth in-depth analysis of these and other developments in the Middle East and in the Arab-Israeli conflict, please visit the CAMERA website at http://www.camera.org.
CAMERA (the Committee for Accuracy in Middle East Reporting in America), a national non-profit media-monitoring organization headquartered in Boston, works to promote accurate, balanced and complete coverage of Israel and the Middle East. A non-partisan 501(c)3 organization, CAMERA takes no position with regard to American or Israeli political issues or with regard to ultimate solutions to the Arab-Israeli conflict.
###