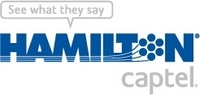 Captioning provides reassurance that you are truly understanding what the other person is saying
Albuquerque, NM (Vocus) August 21, 2009
One of the first indications of hearing loss is difficulty hearing telephone conversations--and that can lead to frustration, embarrassment and even avoiding the telephone altogether. But a new internet-based technology to be featured next week in New Mexico allows telephone users with hearing loss to actually see what the other party is saying.
Innovative Captioned Telephone (CapTel®) technology is being introduced to New Mexico residents next week at the New Mexico Conference on Aging, August 25-27, 2009 at the Sandia Resort and Casino in Albuquerque. Attendees will be able to witness a demonstration of the CapTel 800i® captioned telephone, an internet based service that provides easy-to-read captions of telephone conversations, at the Hamilton CapTel booth #30.
The CapTel 800i uses existing phone service (either analog or digital) for the voice portion of the call, combined with a high-speed internet connection to deliver captions on incoming and outgoing calls. Captions are generated through a captioning center, where using advanced voice-recognition technology, a specially trained operator re-voices everything the other party says, resulting in nearly instantaneous captions for the person with hearing loss to read.
"Captioning provides reassurance that you are truly understanding what the other person is saying," said Anne Girard, director of marketing for Hamilton CapTel. "For those who have been struggling with telephone conversations due to hearing loss, the CapTel 800i can offer lifechanging benefits."
"Hearing loss can create difficulties during telephone conversations with family, friends and businesses," Girard added. "The CapTel 800i captioned telephone provides a powerful and effective way for people experiencing hearing loss to use the phone with confidence and stay connected with important people in their lives."
Developed by Ultratec, Inc., Captioned Telephone ("CapTel") allows people with hearing loss to read captioned transcriptions of their telephone conversations. For those without a high-speed Internet connection, a landline version of CapTel captioned telephone is also available through Relay New Mexico. Hamilton Relay, who provides Hamilton CapTel service, was recently selected as the new provider for the New Mexico Telecommunications Relay Service, a free 24-hour service that ensures equal communications access via the telephone to individuals who are deaf, hard of hearing, deaf-blind or speech disabled.
About Hamilton CapTel
Hamilton CapTel is a service of Hamilton Relay, a division of Hamilton Telecommunications, a diversified communications and technology service provider based in Aurora, Neb. Founded in 1901, Hamilton Telecommunications has grown to encompass eight primary company divisions allowing Hamilton to operate on a local, regional and national basis. For more information about Hamilton CapTel, please visit http://www.hamiltoncaptel.com.
About Ultratec, Inc.
Located in Madison, Wis., Ultratec, Inc. is the world's leading manufacturer of text telecommunications equipment for people who are deaf or hard of hearing. Since 1978, the company has been instrumental in developing new technologies that allow people with hearing loss to communicate over the phone. For more information about Ultratec, please visit http://www.Ultratec.com.
Media Contact:
Tina Hunt
Marketing Communications Manager
Hamilton Relay, Inc.
Tel. 402-694-5101
Contact at the Aging Conference:
Frank Endres
CapTel Sales Program Manager
Tel. 843-236-2241
Cell 843-503-9229
Hamilton CapTel (Booth #30)
###