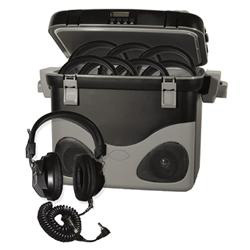 Mc Elhattan, PA (Vocus) March 6, 2010
Brodart Supplies & Furnishings is introducing a unique new tool for school administrators and teachers alike: the Hamilton Tutor Tote Listening Center.
Brodart has a new Hamilton Tutor Tote Listening Center, featuring a CD/DVD player, cassette player, and built-in speakers. It includes a wireless microphone for freedom in mobility, video output, and a USB port for easy connectivity on-the-go. The tote comes with eight deluxe headsets and eight built-in headphone jacks. As a power source, the tote requires110v of power, or 8 "C" batteries. Portable listening centers make great tools for teachers to improve students' listening skills and model phrasing and fluency. They also let students listen to their own taped reading for self assessment. They make a good tool for principles or other school administrators to host assemblies, as the listening centers act like portable PA systems.
To take a closer look at Brodart's Hamilton Tutor Tote Listening Center.
ABOUT BRODART CO.
Since 1939, Schools and Libraries alike have turned to Brodart Supplies & Furnishings for everything to keep their libraries running smoothly. From book covers and book supports to kids wall murals, Brodart Supplies & Furnishings is a one stop shop for all your library supplies. From humble beginnings, Brodart has grown to become an international company, serving libraries from the Northwest Territories to the Pacific Rim, with facilities in the United States and Canada. Brodart truly has evolved into a full-service library supply company. For additional information about Brodart Supplies & Furnishings, please visit shopbrodart.com or brodart.ca for our Canadian users, or call 1.888.820.4377 in the United States or 1.800.265.8470 from Canada.
###