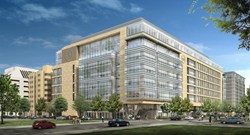 George Washington University President, Stephen Knapp, proudly stated, 'To be truly the world-class university that we are every day becoming, we need facilities equal to our world-class faculty.'
De Pere, WI (PRWEB) May 19, 2013
Hamilton Scientific of De Pere, Wisconsin, along with their dealer, Dancker, Sellew & Douglas, has been selected to provide custom laboratory bench systems for the innovative Science and Engineering Hall at George Washington University in Washington, D.C. As part of GW's green-building initiative, Hamilton Scientific was successful in meeting the product intent, project scope and budgetary requirements.
Over the course of two years, Hamilton Scientific engineers worked closely with the renowned architecture and engineering firm, Ballinger of Philadelphia, to develop an innovative solution that would meet the design criteria for the new Science & Engineering Hall.
The new Science and Engineering Hall consists of 8 floors totaling approximately 500,000 SF. The building is a LEED Registered project, expecting to achieve Silver Certification. The project consists of 2,000 custom table based laboratory benches that will be engineered with features such as pre-wired and pre-piped benches that are equipped with interchangeable components and plug-and-play utilities with innovative interfacing capabilities. Additional product details include:

At the ceremonial groundbreaking, George Washington University President, Stephen Knapp, proudly stated, "To be truly the world-class university that we are every day becoming, we need facilities equal to our world-class faculty. To be a powerful institution devoted to making advances in the realm of policy in today's world, you have to have credibility and power and competence and excellence in science and engineering. This project is absolutely integral to everything we're trying to achieve as a university."
According to Laura Carlson of Ballinger Architecture, "Hamilton Scientific was very collaborative in the design process. We worked with them in a series of meetings to design their tables to work with the goals of the project and the needs of both teaching and research across a diverse group of science departments. Hamilton Scientific was an enthusiastic player on the team working to achieve an appropriate solution to the problem."
With the anticipated completion date of 2015, the building will nearly double the amount of space currently available at GW's Columbian College of Arts and Sciences and School of Engineering and Applied Sciences.
The Team:
Hamilton Scientific, De Pere, WI
Architect/Engineer: Ballinger, Philadelphia, PA
Construction: Clark Construction, WDC, Bethesda, MD
Dealer/Partner: Dancker, Sellew & Douglas, Somerville, NJ
Hamilton Scientific is one of the world's largest manufacturers of laboratory furniture and fume hoods for the education, healthcare and industrial laboratory markets. Founded in 1880, Hamilton Scientific features highly automated in-house manufacturing capabilities and engineering/design services that allow for consistent high quality products and on-time delivery.