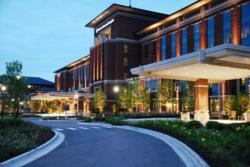 With the new Elmhurst Memorial Hospital, we were honored to lead and direct the critical processes that produced a facility that serves patients, visitors and staff in such a pleasant, effective, efficient and all-encompassing way.
Elmhurst, IL and Brookfield, WI (PRWEB) September 21, 2011
When the new Elmhurst Memorial Hospital officially opened to patients June 25, it was a historic day for the organization and the suburban Chicago communities it serves.
But when Elmhurst Memorial Healthcare began the planning process in 2008 to replace its main campus with a 259-bed greenfield hospital, system executives were looking for more than just a new building. They knew it had to be aesthetically pleasing, easy to navigate and offer a supportive, healing environment. They wanted it to be not just "patient-centric," but "people-centric," serving the needs of patients, families, physicians and staff alike.
Those goals and their solutions were meticulously researched and engineered throughout a three-year period that started with the selection of Hammes Company to lead and direct the critical process. As owner's representative and project manager, Brookfield-based Hammes Company led the project team, hospital administration, physicians, staff, patients and their families in a series of exercises and workshops that helped to fine-tune the ultimate design and features of the replacement facility.
The team members spent six months planning before they even started on programming, budgeting, master planning or submitting a certificate of need (CON) application. They opened a design center in the existing hospital and set out incorporating "user groups" with employees and physicians from all functional areas. They mapped patient experiences, used process improvement techniques and focused on form, function and flow of people through the building. When the new facility transferred its patients and became fully operational, all parties agreed that the goal had been realized of creating a people-centric, thoughtful building.
The overwhelmingly positive reaction to the new Elmhurst Memorial Hospital is well-deserved. Aesthetically pleasing, with Prairie style architecture featuring wood detailing and furnishings, the new facility includes all private inpatient rooms with individual climate controls and natural lighting. The rooms are all oriented the same way, streamlining staff procedures and eliminating confusion. Related critical care components such as the emergency department, the intensive care unit (ICU), operating rooms and sterile processing are adjacent, maximizing employee efficiency and minimizing patient transport time. Other concepts likewise create efficiencies, such as linen closets in between rooms and decentralized elevators. Cost management shows in visually rich but relatively inexpensive finishes like oak and key decisions such as not building a parking structure which saved $10 million to $12 million of cost. Instead, the site was maximized to include ample surface parking.
Such lean design principles enabled the team to invest more in certain critical areas, such as mechanical and electrical systems, environment systems and patient safety. In addition, the hospital is master planned to enable future expansion, potentially doubling its size and number of beds, and adding a parking structure when needed.
"We have an important responsibility to the communities we serve to carry out our mission of providing efficient, high-quality and compassionate care, and these new facilities enable us to do that," said W. Peter Daniels, President and Chief Executive Officer of Elmhurst Memorial Healthcare. "The future of healthcare is here in Elmhurst today: technologically advanced, patient friendly and offering a full range of clinical services provided by an extremely talented medical staff and hospital staff," Mr. Daniels said.
"Our partnership with Elmhurst Memorial Healthcare dates back to 1995 when we developed the Elmhurst Memorial Center for Health," says Hammes Company Vice President Dave Connolly. "With the new Elmhurst Memorial Hospital, we were honored to lead and direct the critical processes that produced a facility that serves patients, visitors and staff in such a pleasant, effective, efficient and all-encompassing way."
Hammes Company is also developing two other projects for Elmhurst Memorial Healthcare. A four-story, 84,000 square foot medical office building (MOB) connected to the new Elmhurst Memorial Hospital will be ready for occupancy in fall 2011. The MOB, which is linked to the new hospital near the west lobby entrance and emergency department, shares the same prairie style architecture and interior finishes. In neighboring Addison, a new MOB, Elmhurst Memorial Addison Health Center, will replace an existing facility on the same property at 303 W. Lake St. The 58,000 square foot facility, scheduled to open spring 2012, will include enhancements such as more physician office space, expanded laboratory services, radiology (including CT, MRI, mammography and general X-ray) and urgent care.
About Elmhurst Memorial Healthcare
Founded in 1926, Elmhurst Memorial Hospital today is Elmhurst Memorial Healthcare, a comprehensive health system with multiple locations and services designed to enhance the health of the communities and customers we serve. In June 2011, Elmhurst Memorial Healthcare opened a new, state-of-the-art acute care hospital. With 259 private patient rooms, a modern emergency department and technologically advanced surgical suites, the new Elmhurst Memorial Hospital incorporates the latest trends in healthcare facility design and is home to some of the area's most advanced technology. For more information about Elmhurst Memorial Healthcare, please call CareMatch, our physician referral line, at (331) 221-CARE, or visit our website at http://www.emhc.org.
About Hammes Company
Hammes Company is a single source of market-based and financially sound healthcare solutions. The full-service consulting firm is at the forefront of providing strategic planning, facility development, project management and implementation, and real estate acquisition and advisory services to hospitals, healthcare systems, and major physician groups. The company has been ranked as one of the nation's top developers of healthcare facilities for 12 consecutive years by Modern Healthcare magazine. Hammes Company is headquartered in Brookfield, Wis. and provides services through a network of regional offices strategically located across the country. For more information, please visit http://www.hammesco.com.
Fact Sheet
Elmhurst Memorial Hospital
Location: 155 E. Brush Hill Rd., Elmhurst, Ill. 60126
Development Cost: $450 million
Size: 866,000 square feet, 259 beds on a 50-acre campus.
Schedule: Broke ground May 2, 2008, and was completed in June 2011. Patients and operations were transferred to the new facility June 25, 2011.
Owner: Elmhurst Memorial Healthcare, Elmhurst, Ill.; http://www.emhc.org
Project Manager: Hammes Company, Brookfield, Wis.; http://www.hammesco.com
Master Architect: Albert Kahn Associates, Detroit; http://www.albertkahn.com
Exterior Design, Enclosure and Public Spaces: Pratt Design Studio, Chicago; http://www.prattdesign.com
Mechanical and Electrical Engineering, Plumbing: Korda/Nemeth, Columbus, Ohio; http://www.korda.com
Construction Manager: Gilbane Building Company, Providence, R.I.; http://www.gilbaneco.com
Civil Engineer/Site Planning: V3 Companies Ltd., Woodridge, Ill.; http://www.v3co.com
Landscape Architecture: Mariani Landscape, Lake Bluff, Ill.; http://www.marianilandscape.com
###