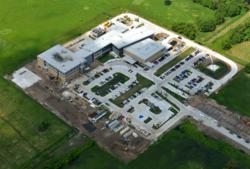 Having the experience and capabilities of Hammes Company, the nation's leading healthcare consulting firm, in the role of program manager enabled us to deliver what our community needed.
CHALMETTE, La., and BROOKFIELD, Wis. (PRWEB) October 09, 2012
More than seven years after Hurricane Katrina dealt a decimating blow to New Orleans, one of the critical pieces of the region's long recovery has been restored.
St. Bernard Parish Hospital, the first full-service hospital to be built in greater New Orleans since the storm, opened to patients Aug. 20.
The program manager for the new, publicly owned hospital and attached medical office building (MOB) is Brookfield, Wis.-based Hammes Company.
The $91 million, three-story, 113,300 square foot, 40-bed hospital and three-story, 69,000 square foot MOB are located at 8000 W. Judge Perez Dr. in the St. Bernard Parish seat of Chalmette, five miles southeast of downtown New Orleans. Both facilities are owned by the St. Bernard Parish Hospital Service District (HSD).
When Katrina struck on Aug. 29, 2005, flooding forced the evacuation of more than 1 million people and the majority of the city's infrastructure was severely compromised – or destroyed. This included several of the city's hospitals, including all four hospitals that served St. Bernard Parish and neighboring communities. The new St. Bernard Parish Hospital replaces the former Chalmette Medical Center, one of the hospitals destroyed during Katrina.
"With the completion of the new hospital and medical office building, the citizens of St. Bernard Parish finally have the long-awaited assurance of high-quality healthcare services in their own backyard," HSD Chairman Wayne J. Landry says. "This community has pulled together to overcome many roadblocks on their way to achieving this much-needed hospital and MOB. They no longer have to worry about how to get their critical healthcare needs met in a timely fashion, and have gained a state-of-the-art medical center in the process."
"Planning and building these quality facilities required a high level of expertise and leadership," Mr. Landry continues. "Having the experience and capabilities of Hammes Company, the nation's leading healthcare consulting firm, in the role of program manager enabled us to deliver what our community needed."
"The revitalization of St. Bernard Parish, especially after so much unimaginable hardship, is a testament to this community's incredible spirit, resilience and dedication," Hammes Company Chairman and CEO Jon Hammes says. "It has been a privilege for Hammes Company to bring a broad range of healthcare services back to this area, and to help restore such a critical component of the St. Bernard Parish community."
In addition to the loss of the four hospitals, healthcare in the region was also adversely affected by the evacuation of qualified medical personnel, with many physicians, nurses and trained medics deciding not to return the area. While plans for rebuilding other destroyed hospitals have slowly taken shape, until now, none have been replaced, and city residents have been forced to make due with temporary health centers.
In the case of St. Bernard Parish, residents had the option to visit a temporary health center housed in double-wide trailers in the local Wal-Mart parking lot, but there was no Emergency Department (ED) or full-service hospital. In more serious cases, they would need to travel to alternative facilities such as Tulane Medical Center or East Jefferson Hospital in Metairie, facing time-consuming obstacles such as drawbridges that could seriously affect travel time – and, in emergencies, possibly make the difference between life and death.
The new hospital includes a 10-bed ED and Intensive Care Unit, as well as a full range of other healthcare services including general medicine, general surgery, orthopedics, urology, endoscopy, radiation therapy, physical therapy, skilled nursing and a pharmacy. While the hospital's current design affords all private rooms, it could be expanded to 58 beds in semi-private rooms without additional construction. The MOB houses physician suites, outpatient rehabilitation and administrative offices.
The new facilities are located on an 11.5-acre site donated by the Arlene and Joseph Meraux Charitable Foundation. If more land is needed for future expansion, the HSD has an option on another 8-acre donation from the foundation.
Some of the special engineering and design features integrated in the new hospital that will help it withstand future natural disasters include:
■ Two generators, diesel fuel tanks and operating systems built on the second floor of the facility, 25 feet above ground, to avoid flooding issues
■ Both generators can switch over in 10 seconds to provide electricity for essential functions, and either can power the entire hospital
■ Both structures are earthquake resistant, and are designed to sustain extreme wind and water conditions, including hurricane-force winds of up to 180 miles per hour
The hospital has passed several required inspections, already obtaining its Parish Occupancy and Department of Health permits, as well as Joint Commission accreditation. Upon successful completion of accreditation, the hospital will be able to participate as a provider in Medicare, Medicaid and HMO programs. The MOB is scheduled to open this fall.
The architects for the hospital were Gresham Smith and Partners out of Nashville, Tenn., along with New Orleans-based Sizeler Thompson Brown Architects and the construction manager was Citadel Builders of Metairie, La. Architectural design for the MOB was provided by New Orleans firms Sizeler Thompson Brown Architects and Duplantier & Meric Architects LLC. MOB construction was provided by Brice Building Company LLC, also of New Orleans.
Hammes Company has been involved in the project for about six years. The firm was initially brought in by Baton Rouge, La.-based Franciscan Missionaries of Our Lady Health System (FMOL). The HSD formally hired Hammes Company to be the program manager for the new hospital in June 2009. FMOL was selected by the HSD to operate the new St. Bernard Parish Hospital.
One of the biggest challenges the projects faced was raising the $78 million needed for the hospital and $13 million for the MOB. Fortunately, federal, state and local officials put together a financing package that will include $46 million in U.S. Department of Housing and Urban Development (HUD) Community Development Block Grant (CDBG) funds ($5 million of this is through the state's local infrastructure program called ILOC), $17 million in Louisiana State Capital Outlay funds, $11.6 million in U.S. Treasury New Market Tax Credit (NMTC) funds, $2.72 million from the Federal Emergency Management Agency(FEMA), $1.1 million in U.S. Health Resources and Services Administration (HRSA) grant funds, and a $13 million millage (for hospital start-up and operations only). The millage was passed by St. Bernard parish residents in 2010.
While the St. Bernard Parish population has not yet returned to its former pre-Katrina levels, the new facilities are expected to assist in its growth and attract residents. Before the storm, the population was 65,000. After the storm, at the end of August 2005, the population decreased to 12,000. Currently it is estimated at 35,000, and within the next 10 years is projected to reach 50,000. It is anticipated that the two projects will have a positive economic impact on the area, with an anticipated $2.3 million to be generated annually by the hospital alone. The hospital will employ 190 people, 52 percent of whom are St. Bernard Parish residents. The total support job impact of the two facilities will be a great boost to the local economy, with an estimated 500 new jobs added.
About Hammes Company
Hammes Company is a single source of market-based and financially sound healthcare solutions. The full-service consulting firm is at the forefront of providing strategic planning, facility development, project management and implementation, and real estate acquisition and advisory services to hospitals, healthcare systems, and major physician groups. The company has been ranked as one of the nation's top developers of healthcare facilities for 13 consecutive years by Modern Healthcare magazine. Hammes Company is headquartered in Brookfield, Wis. For more information, please visit http://www.hammesco.com.