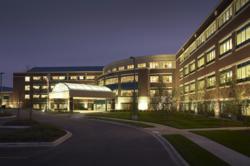 Our success has been due to a combination of loyal clients, dedicated employees and a proven ability to cost-effectively deliver top-quality healthcare facilities.
Brookfield, Wis. (Vocus/PRWEB) March 25, 2011
Healthcare real estate construction rebounded nearly 49 percent in 2010 – and Hammes Company led the way.
Last year, the costs of completed healthcare construction projects nationwide totaled about $12.6 billion, up sharply from the roughly $8.5 billion completed during 2009. And, as it has been for 12 consecutive years, Hammes Company was the nation's largest healthcare real estate developer.
The Brookfield-based firm completed projects valued at about $1.27 billion in 2010, nearly three times the volume reported by its nearest competitor. That's according to Modern Healthcare magazine, which published the results of its Annual Construction & Design Survey in its March 14 edition.
"We are certainly proud to have been ranked as the top healthcare real estate developer for a dozen years," says Rich Galling, President and COO of Hammes Company. "But what matters more is what those rankings represent. Our success has been due to a combination of loyal clients, dedicated employees and a proven ability to cost-effectively deliver top-quality healthcare facilities."
"Since its founding, Hammes Company has strived to be a single source of planning and implementation solutions for health systems, regional and community hospitals, and physician groups," adds Jon Hammes, Founder and CEO. "Those efforts have given us the opportunity to work with many great clients to deliver many great projects over the years."
A few of the larger healthcare projects delivered by Hammes Company last year included:
■ Aurora Medical Center in Summit, Wis., a four-story, 800,000 square foot complex that opened in March 2010. In addition to the newly opened 117-bed hospital, the Summit campus includes an attached medical office building (MOB) and cancer center, which opened ahead of schedule in October 2009. Hammes Company has delivered numerous facilities for Aurora Health Care since the two organizations began working together in 1993.
■ Saint Joseph - London, a 120-bed, 340,000 square foot replacement hospital that opened in August in south-central Kentucky. The client, Catholic Health Initiatives, has worked with Hammes Company for more than eight years on projects that have included large renovation and expansion projects, new greenfield construction, and major replacement hospitals including Saint Joseph – London.
■ Aurora Medical Center in Grafton, Wis., a four-story, 510,000 square foot facility that opened in November. Another project for Aurora Health Care, the Grafton campus includes a 107-bed, 435,000 square foot hospital and an attached four-story, 75,000 square foot MOB.
■ St. Luke's Hospital at The Vintage, a 106-bed, four-story, 224,414 square foot facility that opened in December in northwest Houston. It marked the fifth major collaboration for St. Luke's Episcopal Health System and Hammes Company since 2000.
"These and other long-term clients helped to make 2010 another highly successful year," Mr. Galling says. "With numerous projects now in development and under construction, we are confident that 2011 will be another strong year for Hammes Company and healthcare construction as a whole."
About Hammes Company
Hammes Company is a single source of market-based and financially sound healthcare solutions. The full-service consulting firm is at the forefront of providing strategic planning, facility development, project management and implementation, and real estate acquisition and advisory services to hospitals, healthcare systems, and major physician groups. The company has been ranked as one of the nation's top developers of healthcare facilities for 12 consecutive years by Modern Healthcare magazine. Hammes Company is headquartered in Brookfield, Wis. and provides services through a network of regional offices strategically located across the country. For more information, please visit http://www.hammesco.com.
# # #