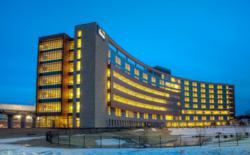 The new Virtua Voorhees hospital is the largest healthcare construction project to be completed in its region and the state in the past seven years.
Voorhees, NJ, and Brookfield, WI (PRWEB) August 24, 2011
The new Virtua Voorhees is one of the nation's most innovative hospitals, designed with a focus on quality, safety, digital technology and an outstanding patient experience. Dubbed "the hospital of the future," it encompasses 680,000 square feet and provides 368 beds in private patient rooms. Ten years of planning, including 34 months of construction, culminated in a hospital that consists of 5,400 tons of steel, 19,700 yards of concrete and 18 million feet of cable on 40 acres of land.
"In designing the Virtua Voorhees hospital, we examined more than 180 processes and designed the facility based on the way clinicians and patients actually function in the hospital environment," said Virtua Chief Executive Officer Richard P. Miller.
Virtua employed Six Sigma and LEAN principles in the hospital design which was based upon workflow and the patient care process. Physicians, nurses, patients and the community all had input in creating a design that works. Architects incorporated that input into their design and made needed adjustments such as decentralizing supplies and medication stations by locating them in multiple areas, closer to patient rooms with everything where and when it is needed. This places caregivers exactly where they need to be, in direct contact with the patient to offer comfort, perform procedures and administer care. It is a new design for healing that changes the way healthcare is delivered by putting the patient at the center of every experience.
A number of nationally renowned experts in healthcare planning, design and construction helped bring this project to fruition. Among them is Hammes Company from Brookfield, Wis.
According to Rick Stoudt, a Senior Vice President of Hospital Facility Development with Hammes Company, Virtua is a progressive organization that will consider any idea that has the potential to efficiently and cost-effectively improve patient access to safe, high-quality healthcare. "Thanks to that openness and flexibility, we were able to collaborate with Virtua and other members of the project team to incorporate many innovative and cost-saving features into the new hospital," Mr. Stoudt said.
One of the innovations suggested by Hammes Company was the implementation of an owner-controlled insurance plan (OCIP) during the construction phase. Through the OCIP, Virtua bought and managed worker's compensation and liability insurance for both itself and the builder, as opposed to a traditional plan under which each entity would buy its own coverage. With the cooperation of the construction manager, Turner Construction Company, Virtua saved about $2 million by using an OCIP for the new hospital.
"The new Virtua Voorhees hospital is the largest healthcare construction project to be completed in its region and the state in the past seven years – and the results speak for themselves," said Rich Galling, President and COO of Hammes Company. "It has been refreshing to work with an organization that is so receptive to creative ideas and innovations that can reduce costs while increasing healthcare quality and efficiency."
Virtua designed the hospital to fully integrate the newest medical technology, from diagnostic and treatment equipment to advanced information technology and electronic medical records, with the ability to adopt new technologies into the future. This ensures that each patient receives the right care at the right time and in the right place. The new operating rooms offer sophisticated, digital design and advanced technologies that allow less-invasive treatments, shortening recovery times and returning patients to normal much more quickly than in the past.
The healing environment goes beyond advanced technology and exceptional clinical staff by incorporating the use of natural light, healing gardens, walking paths and meditation spaces. Every room in the new hospital is private to provide personal space for optimum healing. Studies show that this environment reduces stress when a person is not well. Private rooms also enable a family member to stay overnight on a comfortable sleep sofa in the patient's room, providing freedom for confidential conversations between patients, family and caregivers.
Dedication and commitment by thousands of Virtua and partner employees, and meticulous preparation by Virtua's team of Management Engineers, led to a seamless move in record time from the old hospital to the new Virtua Voorhees. One hundred forty-four patients were moved 3.5 miles in under four hours and the hospital was immediately open to incoming patients and families, including the first baby born soon after the move was completed, followed by the delivery of twins. Without interruption, it is definitely "business as usual" at Virtua Voorhees.
"Virtua's mission was to build a medical campus from the ground up and include features that enable us to adapt to the rapidly evolving world of medicine and technology for generations to come, while placing the focus on the patient and the family," said Miller. "I am proud to say that we have accomplished this goal."
About Virtua
Virtua is a comprehensive multi-hospital healthcare system headquartered in Marlton, NJ. Its mission is to deliver a world-class patient experience through its programs of excellence in cancer treatment, cardiology, orthopaedics, women's health, pediatrics, surgery and neuroscience. A non-profit organization, Virtua employs 8,400 clinical and administrative personnel, and approximately 1,800 physicians serve as medical staff members. Virtua has distinguished itself as one of the first Six Sigma organizations in healthcare, as an early adopter of clinical and digital technologies, and for its innovative partnerships with nationally renowned organizations such as GE Healthcare, The Children's Hospital of Philadelphia (CHOP), and Fox Chase Cancer Center. It has been honored twice with the New Jersey Governor's award for Clinical Excellence and recognized with the Leadership Award for Outstanding Achievement by Voluntary Hospitals of America. Virtua has been honored as the #1 Best Employer in the Delaware Valley for five consecutive years by the Philadelphia Business Journal and is the recipient of the Consumer Choice Awards by National Research Corporation. Virtua is proud to be the official southern New Jersey sponsor of the Go Red for Women and Start! Walking Movements. For more information, visit our website at http://www.virtua.org or call 1-888-VIRTUA-3 (1-888-847-8823)
About Hammes Company
Hammes Company is a single source of market-based and financially sound healthcare solutions. The full-service consulting firm is at the forefront of providing strategic planning, facility development, project management and implementation, and real estate acquisition and advisory services to hospitals, healthcare systems, and major physician groups. The company has been ranked as one of the nation's top developers of healthcare facilities for 12 consecutive years by Modern Healthcare magazine. Hammes Company is headquartered in Brookfield, Wis. and provides services through a network of regional offices strategically located across the country. For more information, please visit http://www.hammesco.com.
###