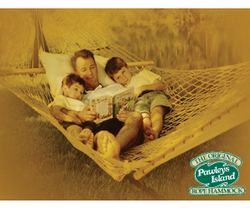 Greenville, N.C. (PRWEB) June 8, 2010
For the dad who seems to have everything, and who's worked very hard to get it, the one thing he probably has in the greatest abundance is … stress. So the last thing he needs this Father's Day is even more of the same.
How, then, do you give Dad what he truly needs? How do you give him the gift of no stress this Father's Day?
It's actually very simple: Give the guy a good hammock. Because stress is to a well-made hammock what a dolphin is to a desert: You're not going to find the one hanging out in the other!
If you do decide to buy a hammock for Dad this Father's Day, resist the urge to go cheap. With hammocks, you honestly get what you pay for. Buying Dad a cheap, and cheaply made, hammock is on par with giving him another tie – and a tacky one, at that. Because a cheap hammock not only promises little by way of actual comfort or style, but it's also guaranteed to start falling apart after only modest exposure to the elements. All Dad really gains from a gift like that is, actually, a little more stress.
"Gosh," he's likely to respond to such a present. "Um, well … thanks?"
Expect a whole different outcome, however, should you choose an Original Pawleys Island Rope Hammock instead – because for quality and craftsmanship, few hammocks can come anywhere close to a Pawleys. For more than a century, the venerable brand has been the actual standard by which all other American-style hammocks are measured – because Pawleys did it first and did it best, and still does it best today.
The Original Pawleys Island Rope Hammock brand dates to a summer's night way back in 1889, when weary riverboat captain Joshua "Cap'n Josh" Ward of Pawleys Island, S.C., became fed up with failing to get a good night's sleep in the steamy heat onboard his boat. Ward's quest for decent rest quickly led him to the idea of using a rope hammock for a bed. Unfortunately for him – and fortunately for the rest of us – the rope hammocks of his day left everything to be desired. They were cramped, unstable and riddled with uncomfortable, bulky knots, while the hemp or manila from which the hammocks' thin ropes were made was not only prone to giving way, but also was scratchy against the skin.
So Ward set out to craft himself his own better-quality rope hammock, starting with thicker rope made of soft cotton and using a double-latch weave to eliminate the need for knots within the hammock bed. His true legacy, however, is the invention of the spreader bar for holding a hammock open even when in use. Ward bored a row of holes in two sawed-down slats from old oak storage barrels, threading the holes with lengths of rope that he then tied to the closing loops on both short sides of his woven hammock body. And with that, the classic American hammock style was born, becoming in the more than a century since the most recognized symbol of supreme relaxation.
Other than a few improvements in materials – spreader bars, for instance, are now solid Southern white oak hand-dipped multiple times in marine-grade varnish – today's Original Pawleys Island Rope Hammock is very little changed from that relaxation-shaping standard first handcrafted by Ward all those many years ago.
So what can you expect should you give Dad an Original Pawleys Island Rope Hammock?
"Gosh!" he's certain to exclaim. "Wow! Thanks!"
ABOUT THE ORIGINAL PAWLEYS ISLAND ROPE HAMMOCK
The Original Pawleys Island Rope Hammock is the most famous hammock brand in history, its century-plus tradition of excellence unmatched by any other hammock company in business today. Pawleys' quality of materials and craftsmanship extends not only to the beloved brand's classic rope hammocks, but also to its fabric hammocks, hammock rockers and hammock swings, along with its full line of hammock accessories.
The rope bodies of many Original Pawleys Island Hammocks are still hand-woven at the site of the Original Hammock Shop in Pawleys Island, S.C., where the brand was first made available for retail sale in the 1930s. Finishing work, additional weaving and final inspections are handled at the workshop in Greenville, in coastal North Carolina.
The Original Pawleys Island Rope Hammock is part of The HammockSource, a global leader in the casual-furniture and casual-accessories industry, and the world's largest manufacturer and seller of handmade hammocks. Original Pawleys Island products are available through many specialty retailers and specialty-goods catalogs across the United States and Canada, and at a variety of quality online stores, including the brand's own website, http://www.pawleysislandhammocks.com.
# # #